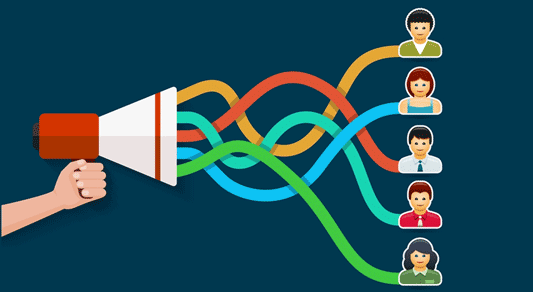 Atlanta Content Marketing
At NicheLabs in Atlanta, content marketing is a strategic marketing approach focused on creating and distributing valuable, relevant and consistent content. Content Marketing allows us attract and retain a clearly defined audience, expand your user base, increase brand awareness and credibility, increase online sales, and ultimately driving profitable (or positive) consumer action. It is focused on addressing an existing customer need rather than creating a demand for a new need. This full-spectrum approach – which is now the gold standard in digital marketing – has been NicheLabs method of attacking marketing since its founding. It puts the focus where it should be: on the customer.
The 7 Elements of Great Content Marketing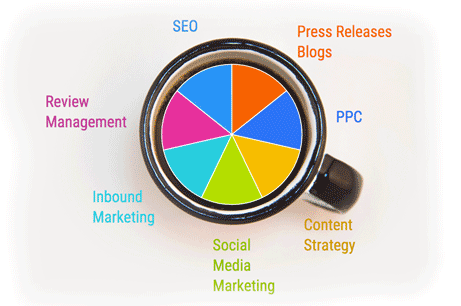 For every NicheLabs client, we look to maximize as many aspects of marketing as possible to give them the best results:
SEO – Our team of SEO experts will review your website in full, taking note of all its current strengths and weaknesses, planning around what we thank can be improved with our optimizations. Through NicheLabs search engine optimization solutions, we want to empower you to better target and reach your intended audience. If your website is missing any important elements that are proven to improve conversions, we'll let you know about it and work with you to plan and execute improvements.
PR – Strong PR planning and preparation will lead to you addressing issues that your readers care about instead of generic business announcements nobody reads.
Inbound Marketing – Your inbound marketing strategy will focus on your ability to be found online through not only search engines but social media sites like Facebook, Youtube and Twitter. It's about putting you in position to be seen in the first place.
PPC – With great content behind your PPC campaign, your PPC visitors will find a great experience that increases the chances that they contact you and do business with your company.
Content Strategy – We work with our clients early on to develop a vision and outline for how content will grow over time on the website as well and in social media spaces.
Social Media Marketing – Social media marketing strategy is a tool that helps keep customers feeling engaged and satisfied, helps create sales opportunities and can help find new clients via word of mouth. Your social media marketing strategy can dictate the speed in which your social media presence can positively impact your business.
Review Development & Management – Collecting strong positive reviews are now more important than ever. At last check, some 90% of online shoppers utilize user reviews to help them determine the quality of a local business, service or product before buying. 72% of customers say that positive reviews will make them trust a local business more. 88% of customers said they trust online reviews as much as personal recommendations. Nearly 75% of customers will take action after reading a positive review. Our techniques and services will empower you with the tools and opportunities needed to gather and grow your reviews and ratings online to take advantage of the power of online reviews.
Content Marketing Tools & Services Available from NicheLabs
White-papers and ebooks
Videos
Infographics
How-to guides
Webinar
Q&A
Surveys
Interviews
Editorials/ Op-eds
Podcasts
Online review services
"84% of people trust online reviews as much as a personal recommendation."
Content Distribution Channels
Your Website
Blog posts and Guest Blog Posts
Infographics
Email newsletters
White-papers
Podcasts
Who We Work With.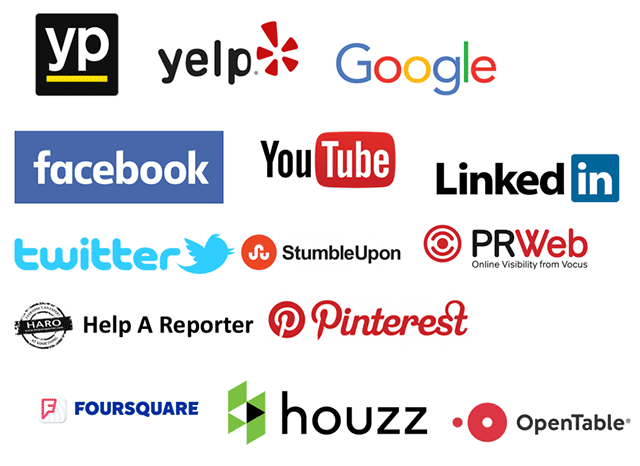 How We Measure Content Marketing Success.
The success of your content marketing plan are based around good, clear analytics. Our content marketing services are expected to improve traffic volume over time, improve the quality of those interactions and visits (more time spent on site, more pages viewed per visit, more key goals and pages being reached), and increase the overall number of leads generated. We expect to see growth and changes in demographics (age and gender) based on your promotions and offers, and visitors coming from a variety of traffic channels (referral, social, ppc, organic). We look to see solid, growing (and glowing) reviews and ratings on major review sites like Yelp and Google My Business. Finally, we expect to see improvements to the conversion generation process with growth and tuning of the overall marketing strategy, good click-through rates across target product pages, and a good number of returning visitors.
When you're ready to take the online presence and effectiveness of your business to new heights, NicheLabs will be ready to help drive you there. Our content marketing strategies are tried and true and can lead you measurable increases in leads, repeat customers and great reputation development.
Take control of your online presence and content marketing strategy NicheLabs. Start by contacting us today.