NicheLabs Painlessly Fills a Cavity in Bayview Dental Arts Marketing Program
Business Name: Bayview Dental Arts
Client Name: Brittany L. Crifasi
Website Address: www.BayviewDentalArts.com

About The Organization:
The doctors and staff of Bayview Dental Arts would like you to know that they want your smile to express happiness and confidence knowing that you will be healthy for a lifetime when you are a patient of theirs. In order to give you a radiant, long-lasting look and smile, Bayview Dental Arts sets the standard for providing their patients with a beautiful and soothing office atmosphere and the latest in dental technology. The doctors of Bayview Dental Arts specialize in two primary areas. First, they specialize in prosthodonics which focuses on the maintenance and restoration of oral health. Second, they specialize in endodontics, the prevention, cause, diagnosis, and treatment of injury and disease of the soft tissue of teeth. The office is located on beautiful Naples Bay, Florida.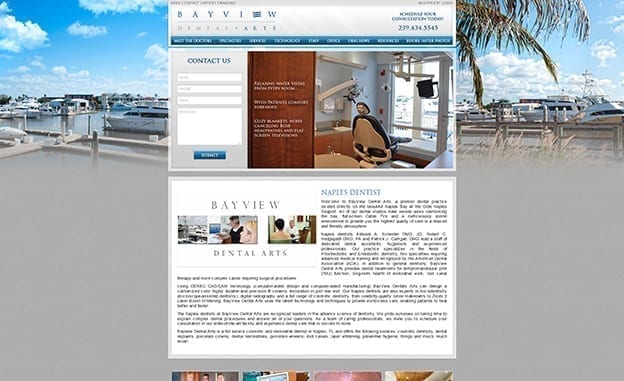 Client Challenges & Goals:
The doctors and staff of Bayview Dental Arts recognized that their website did not mirror the quality and the professionalism of their practice. Their website was simply outdated. They asked NicheLabs to completely redo their website and add online marketing tools such as email marketing and a video that displayed their work. They needed a company like NicheLabs that could help them to improve and enhance their online presence.
The NicheLabs team proposed the following solutions for the dental practice:
Custom Website Design which features the doctors and staff, the practice services and technology utilized in patient care, a look around the office, and before-and-after pictures of patients.
Content Management System so the office staff can make changes to the website.
Blog so that the staff can interact with their patients.
Email Marketing Package which allows potential subscribers to get the latest Bayview Dental Arts News.
Project Outcomes:
Brittany Crifasi, Practice Manager for Bayview Dental Arts, tells us: "I would like to thank the NicheLabs Team for the incredible experience we have had in working with them in developing our new website and online marketing program. Their work was flawless and a very smooth experience for all of us. The NicheLabs Team gave us prompt service each step of the way. I would recommend NicheLabs to every business which is looking for an amazing website!".
Unique Aspects of the Bayview Dental Arts Project:
The Bayview Dental Arts Marketing Program needed a complete makeover and the NicheLabs team provided the expertise to put all of the parts of their new program together into one cohesive package. NicheLabs became a "full solutions provider" by giving the practice an attractive and informative website, a video, and marketing collateral.
What does the future hold for the Bayview Dental Arts Online Marketing Program? Well, they plan to work with NicheLabs on SEO, Email Marketing, and Facebook Social Media Marketing that will enhance and increase their business.