NicheLabs Gives Dax, Naples Professional Resource Center, a Professional Website
Business Name: DAX ENTERPRISES, INC.
Client Names: Kena Yoke & Angelica Torres
Website Address: www.daxenterprises.com

About The Organization:
Dax Enterprises, Inc. was established in 1999 and has enjoyed providing outstanding bookkeeping and office support services for the past ten years to a wide variety of clients who have a diverse set of needs. The proper set up and tracking of business income and expenses in which they specialize allows their clients…company owners…relief and contentment in a hurried world. The staff at Dax Enterprises, Inc. is trained to assist in the set-up of a company's books, guide the business person through the process of managing them, and handling any tasks that are required. The business owner is then able to deal with the more enjoyable aspects of the company. The technology that Dax Enterprises, Inc. utilizes will give a business cost-saving processes including on-line banking, on-line bill paying and auto debits. Other DAX services include providing virtual offices and bi-lingual translations.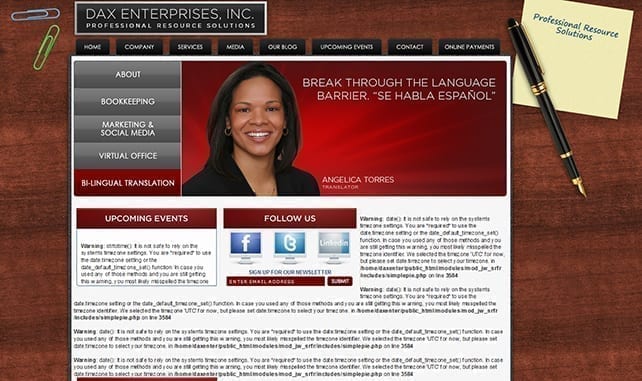 Client Challenges & Goals:
Dax Enterprises faced several challenges and goals when they met with the NicheLabs team about improving their website and online marketing:
Their website looked old and outdated and they needed a more appealing, interactive home page.
Dax needed a professional content management system.
Their image galleries needed improvement.
They needed a better calendar system.
NicheLabs Proposed Solutions For Dax Enterprises:
The NicheLabs Team realized that Dax Enterprises needed both visual and technical changes to their website in order to make the site appealing and functional for their employees, clients, and prospects. In order to accomplish those goals, NicheLabs suggested the following solutions for Dax Enterprises:
Custom Website Design
Content Management System to allow Dax employees to change, edit, and delete copy and pages as needed; training included.
An Attractive Image Slideshow to feature their services and products.
A Calendar Of Events for both the business and local happenings.
An Attractive Picture Gallery.
A Data Entry Form for both clients and prospects which allows for two-way communication between the business and its constituents.
On-going Website Support.
Project Outcomes: Angelica Torres of Dax Enterprises tells us, "We are very excited to have our new website up and running. The 'behind the scenes' knowledge brought by NicheLabs allowed us to update our site to meet the current industry standards. We are pleased with the end result and will look forward to a positive response from our clients and potential clients. "
Supporting NicheLabs Documents: Creative Brief and Scope of Work
Unique Aspects of the DAX Enterprises Project:
It seems like every business wants a website in order to compete with other businesses in their field. Oftentimes, a quick decision is made to put together a website with a solution which is OK, but does not give the business the look and feel that the business requires. Dax Enterprises had a website, but believed that they needed to go to the next level with the image and technology they needed to have in order to make their website commensurate with other parts of their business. NicheLabs was the answer. We took the needs and requests of Dax Enterprises and developed a beautiful website for them. Take a look and the website (www.DaxEnterprises.com) and enjoy…and when you need professional services for your business, get in touch with Dax Enterprises!