Together Kitchens by Clay and NicheLabs Break the Mold
Business Name:Kitchens by Clay
Website Address: KitchensByClay.com

For nearly two decades, the family-run business, Kitchens by Clay has been remodeling kitchens, bathrooms, offices and libraries to suit the lifestyles and needs of its clientele.
They are experts not only in design, but in the installation of cabinetry. When clients visit their Naples, FL showrooms, they immediately feel at ease in the hands of niche experts. Kitchens by Clay chose NicheLabs to translate the sophistication of their offline showrooms to their website.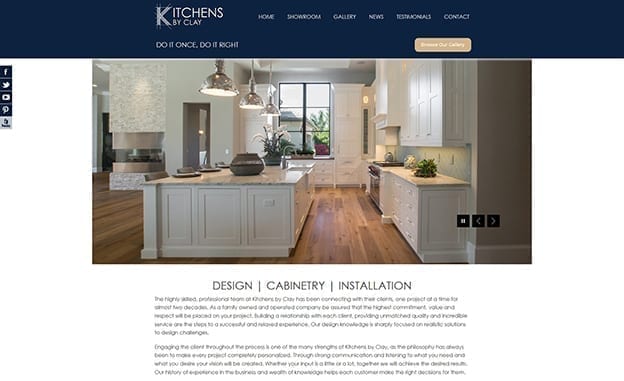 Headquartered Based in Atlanta, the digital marketing firm NicheLabs worked closely with Kitchens by Clay to showcase the breadth and depth of their professional services through a newly-designed and developed website. With offices in Naples, FL and Charleston, SC, NicheLabs serves clients locally in the southeast, as well as businesses nationwide.
Thank you. Please come again!
NicheLabs has also helped the remodeling company engage their clients outside of their breathtaking showrooms. The website design and internet marketing firm has integrated a content management and blog system that enables Kitchens by Clay to add and delete web pages as needed, and to create blog categories, entries and archives.
Understanding their busy clientele are always on-the-move, Kitchens by Clay professionals needed to be accessible to people wherever they are throughout the day. Years after NicheLabs developed their website, content management solution and blog, Kitchens by Clay entrusted them to create a mobile site that relayed the same brand imagery and messaging as their full website.
Today, more than three years after they began working together, their partnership continues to thrive. NicheLabs provides ongoing web hosting, management and security services to the Kitchens by Clay team. They are comforted by the fact that the NicheLabs experts are at the helm of their website. This trust enables Kitchens by Clay to be attentive and responsive to the needs of their own clientele.
When asked why Kitchens by Clay hired NicheLabs, Kelly Cox, Managing Owner, said, "As a company that specializes in creative designs and precision installation, we were drawn to NicheLabs because of their balanced left- and right-brained approach to their work."
Cox added, "Not only did the team have a deep technical understanding of what we needed and the ability to deliver, they were also very aware of our needs and time constraints as a client and fellow small business owner."
To learn more about how your company can benefit from the design and development of a new website, a redesigned site, or online marketing tools, please email us at sales@nichelabs.com or call 866.413.7952.