NicheLabs Builds Website for Inventors of New FPS Gaming Controllers that "Change How You Game"
Business Name: ModdedApps
Website Address: ModdedApps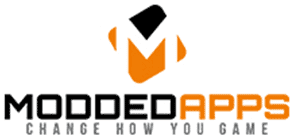 NicheLabs is responsible for the clean and simple design of a new website for ModdedApps-a company that is changing the world of gaming. Roger Romero, CEO and Inventor at ModdedApps, started the company with Co-founder, Brandon Keen, in 2013. Their passion for the gaming industry along with Romero's progressive outlook that anything-no matter how advanced-could be better resulted in a company that truly blurs the lines between the player and the game.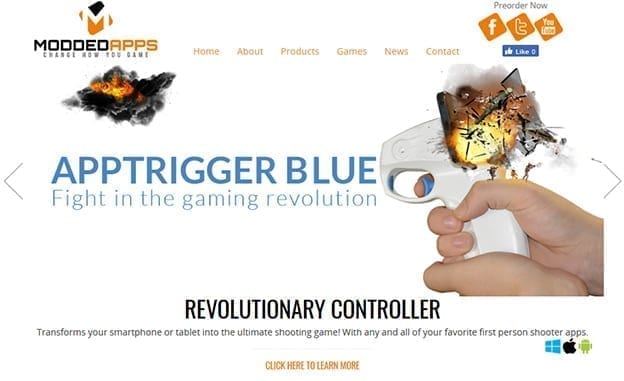 ModdedApps' premiere product line, AppTrigger, features two incredible innovations. AppTrigger Touch and AppTrigger Blue are FPS (First Person Shooter) gaming controllers unlike any others on the market. Design is everything to ModdedApps; although the models of the two gun-like controllers are simple on the exterior, they hold incredible technology making them intuitive and easy to use. Extensive research and numerous prototypes ensured that AppTrigger was completely geared for the user; not only does it feel and look good, but all of its features perform in a way that benefit gamers.
Both models are compatible with all FPS game apps; a one-click link brings you to your mobile app store for easy download to 170 (and growing) games. AppTrigger is compatible with any device-smartphone or tablet-Apple, Android, or Windows. AppTrigger Touch includes a rumble pack with a battery magazine and enables the gamer to reach all controls with their thumb. AppTrigger Blue mimics the gamer's actual motions to the character, including life-like recoil; just crouch to crouch and jump to jump.
Romero was in need of a way to market his new product to the world. He wanted to make it easy for the gamer to find the games. As an inventor, it was important for him to create a professional online presence to attract investors for funding. "I was looking for people that were willing to do something different and not constantly look for the easiest way to do it-which was something that I kept coming across," said Roger.
Since Roger felt that all of the other designers he came across wanted to squeeze his site into a template, NicheLabs set him up with a custom package that included planning, design, development, a CMS (Content Management System) with training, and a very attractive slideshow for their landing page, as well as hosting, security, and support. We also provided links showing the available games and where to download them. The look of the site conveys the technological knowledge and an eye for design that would help ModdedApps catch the eye of investors.
Roger said "I enjoyed working with professionals adhering to any concerns and vision I had. I couldn't possibly ask for better results or better people to work with". Roger even mentioned wanting to buy one of our team members off. He felt that we were very flexible which was helpful in dealing with his crazy schedule.
To check out the new ModdedApps site by NicheLabs please visit www.moddedapps.com.