Creating the Online Course Guide/Travel Guide
Business Name: Research Skills Development Course
Website Address: ResearchSkillsDevelopment.com


When the team that runs the Research Skills Development Course at Emory University's Rollins School of Public Health needed a single website to help foreign students with multiple needs, they turned to NicheLabs to pull all the resources together. The result was an easily navigable website that combines the diverse content of course descriptions; a repository of papers submitted by students; information about traveling to the United States and then getting around Atlanta; signing up for the course; and the documentation necessary to travel to the US.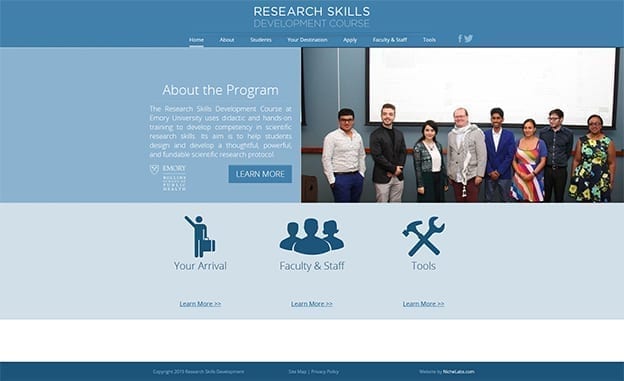 The course is designed for medical students from Saudi Arabia to develop competency in scientific research skills. Its aim is to help participants design and develop a thoughtful, powerful, and fundable scientific research protocol. During the course, they spend four weeks on the Emory campus, and they need to be able to get to the nearby Centers for Disease Control – as well as take advantage of attractions that Atlanta offers.
The course team came to NicheLabs because they needed to replace an existing website that was not logically organized nor easy to navigate. They also had difficulty managing their content.
With all of these requirements, we focused our design on simplicity and logic. The first visible link on the home page takes visitors to the About page, where students can find comprehensive information on the course, Emory, the Rollins School and the Hubert Department of Global Health – through which the course is given. The information through this page helps prospective students decide if they would like to take the course.
If they wish to continue, they can then go to the Students page to see who attended the course and the final presentations each made. This information is important because students come with research ideas that they are expected to turn into research programs. During the course, they develop a protocol, defend it orally in class, and depart ready to submit it to a funding agency.
Because coming to Atlanta presents a travel opportunity, the Your Destination page becomes their online travel guide. It gets down to business by telling students all the documentation required for traveling to the US and enrolling in the course at Emory. The page includes a downloadable PDF to guide their transition into life as student at the school. The page also contains links to dozens of websites about tourist attractions and events in Atlanta and a link to MARTA to help students plan their spare-time activities.
The remainder of the website pages include an online application for the course, contact info and biographies of faculty and staff, and a collection of forms and model proposals, helping the school meet its functional and artistic goals for the site.