What Do You Get When You Mix Image with Imagination?
Business Name: Salon Mulberry
Website Address: SalonMulberry

Salon Mulberry owner and visionary, Glenn Cole, is a thirty-year veteran of the hair salon industry who infuses both style and grace into conversations with his clients, daily team management and the salon's inviting atmosphere. Knowing society demands much of our time and attention on a daily basis, Cole's philosophy is to create an escape where clients feel they check their hectic lives when they first walk inside.
The Salon Mulberry team is recognized for serving Naples' elite without an elitist attitude. Stylists, colorists, makeup artists and salon service professionals ensure people feel special, appreciated and pampered both inside and outside of the salon. The team strives to enhance each person's natural beauty by creating a look that's right for his or her face type, hair type, lifestyle and personality.
The Naples hair salon offers its clients a range of high-end styling services including, hair blowing, cutting and finishing, coloring, treatments, specialty and wedding styling, keratin therapy, and luxury beauty products.
Luxe in Flux
Glenn Cole felt that the company's existing web experience didn't emulate the same level of style and care his clients expected during their salon visits. He wanted to enhance the design of the salon's website, improve readability and usability for visitors, simplify the website's editing process for his team and elevate his search engine visibility with potential clients.
Salon Mulberry engaged NicheLabs to design and develop its new website. NicheLabs integrated the salon's blog with social networking capabilities to bring their offline salon conversations online. Today, the salon's blog features trends, tips and events that are relevant to their Naples clientele and enables clients, fans and contacts to stay connected in between visits.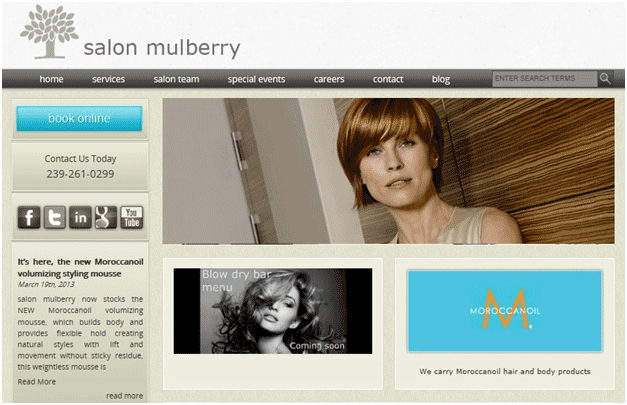 Even though Salon Mulberry and NicheLabs have finished building and launched the new website, they continue to work together. NicheLabs provides the salon with ongoing support, including subscription-based email marketing, enhanced performance and website security.
####Add Quote from Glenn Cole?####
Headquartered in Atlanta, website design firm, NicheLabs helped the Naples hair salon emulate their offline design savvy and welcoming attitude to their online presence. With offices in Naples, FL and Charleston, SC, NicheLabs serves clients locally in the southeast, as well as businesses nationwide.
To learn more about how your company can benefit from online design, development and marketing expertise, please email us at sales@nichelabs.com or call 866.413.7952.