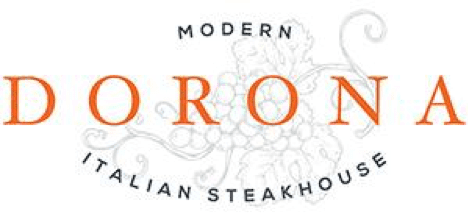 Seasoned Professionals Like Their New Restaurant Websites Well-done; A Client Relationship Aged to Perfection
The Newest Addition to The Aielli Group
The Aielli Group is the blood, sweat, and tears of Venetian Chef, Fabrizio Aielli, and his wife, Ingrid. 20 years of success in professional restaurant management, both domestic and abroad, has earned their restaurants countless awards such as Esquire Magazine's "Best New Restaurant", and Wine Spectator's Award of Excellence, among many others.
Born in the heart of the Adriatic Coast of Italy, Chef Fabrizio brings a passion to all of his establishments, fueled by years of watching his mother cook as a boy. When deciding who to trust to build a site for the latest addition to his family of restaurants, Dorona, he looked no further than NicheLabs.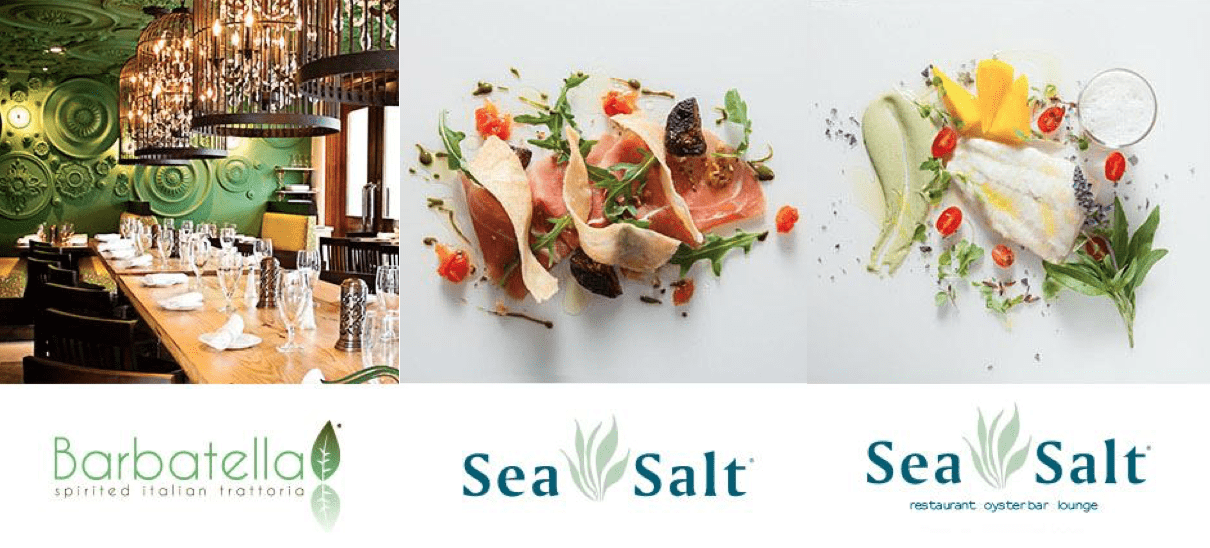 After 5 years of satisfaction in the sites that NicheLabs had designed and built for Aielli Group's other restaurants in the area (Sea Salt Naples, Sea Salt St. Pete, Barbatella), Aielli Group knew that NicheLabs understood their audience and focus on delivering the crucial ingredients for restaurant success: great food, impeccable service, and wonderful environment.  NicheLabs would ensure that the ambiance of Dorona, their new modern Italian Steakhouse, would resonate in DoronaNaples.com.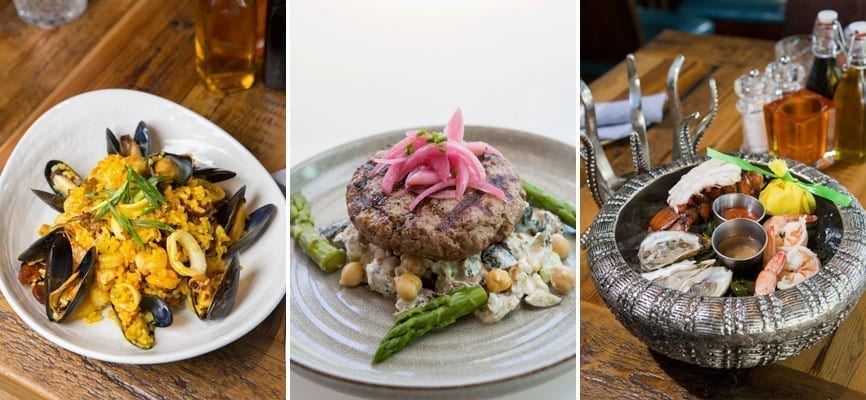 A Class of Its Own
As we have many times before, our team worked closely with the Aielli Group to ensure that DoronaNaples.com would be as top-notch as the finest custom cuts of beef that they serve and as classic as the rustic Italian aromas of the authentic ingredients in each exceptional signature dish.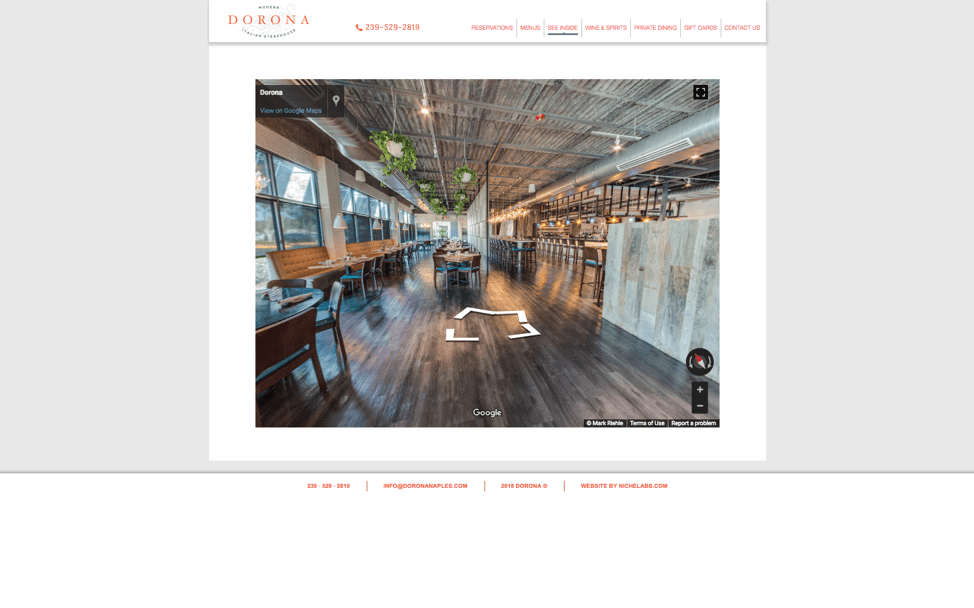 A previously created 3D Virtual Tour invites site visitors inside and boosts local SEO; A one-time, low-cost investment capable of yielding a dreamy ROI
Our team achieved this using clean lines, inviting image galleries and slideshows of the polished decor inside the restaurant. Tantalizing images of Dorona's culinary masterpieces set the expectation of an unforgettable experience. NicheLabs incorporated Dorona's existing Virtual Tour into their new website, not only for the purpose of aesthetics. Google Virtual Tours are now a must-have, especially for restaurants, as they tell Google that you are relevant to the community and boost the interactivity of your website. Visitors are more likely to explore and book a reservation. Patrons of Dorona are also able to easily purchase gift cards and make reservations from any device due to the site's mobile-responsive functionality.
The Home Page features a beautiful six-picture slideshow showcasing ambiance and culinary works of art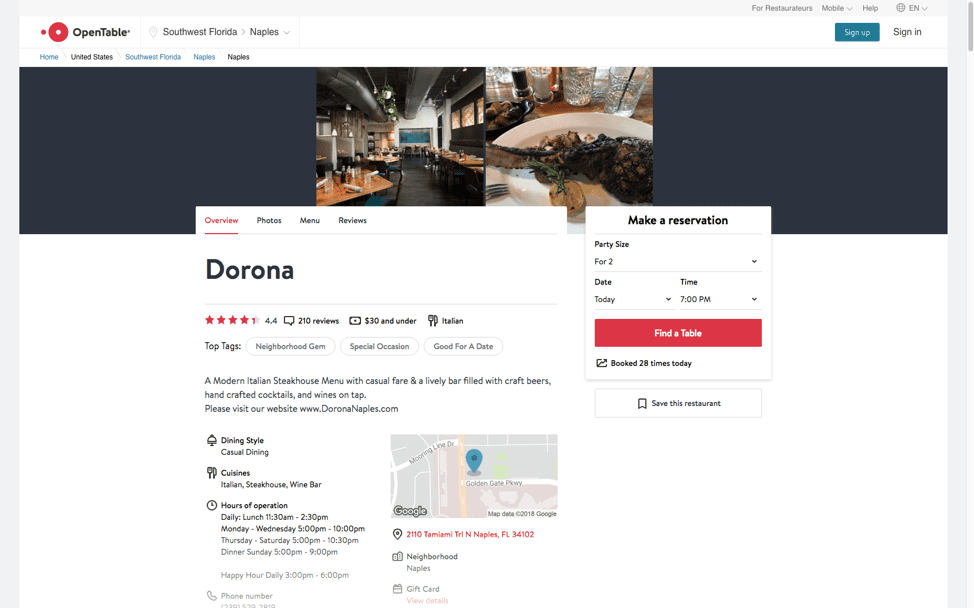 Easy Reservations via OpenTable
Visitors Can Easily Purchase Gift Cards
Perfect Marbling of Independence + Ongoing Support from a Trusted Partner
Being a restaurant with evolving menu items, it was important that NicheLabs provide Dorona with a Content Management System (WordPress), allowing them to update their site independently. We also integrated SinglePlatform, an online publishing network partnered with top search engines, review sites, and online directories, to give them the ability to simultaneously post and schedule menu updates, images, and social media posts to many different online outlets such as Yelp, TripAdvisor, and Facebook.
NicheLabs continues to provide website support for Fabrizio and Ingrid giving them confidence that any challenge they face will be met swiftly by well-seasoned industry professionals.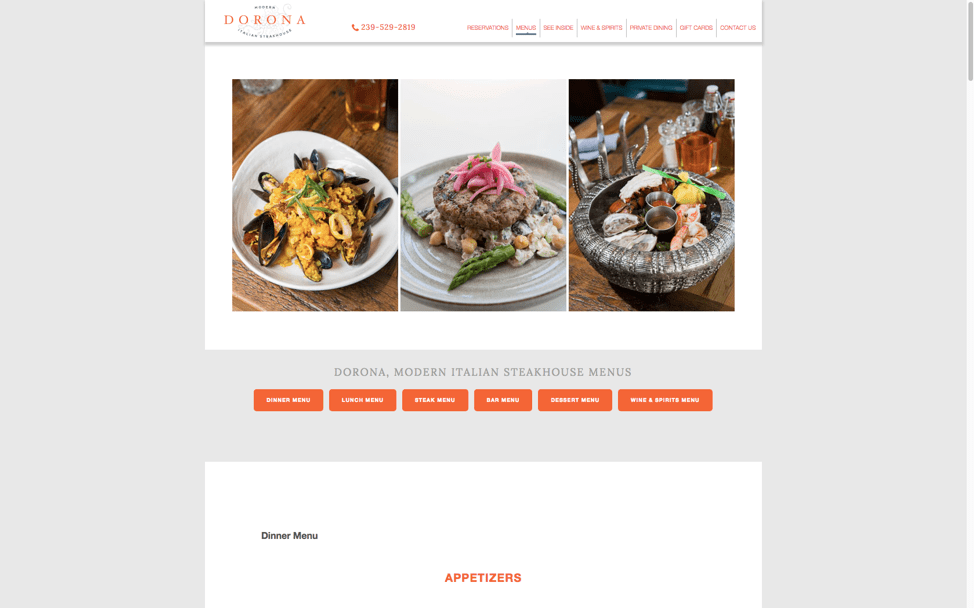 Easy to update menu; Updates made simultaneously across the web via SinglePlatform
It's All About Chemistry
DoronaNaples.com is indicative of the fine quality and upscale dining experience that Dorona offers every guest.
Using a highly analytical approach to engage our client's audience, we Analyze, Advise, and Execute, turning client branding and all that it encompasses (web design, search engine rankings, etc.) into a results-driven science. Skip the experiments and give your prospects and clients the results they crave by contacting NicheLabs today.
Photos on Website by Mark Riehle
*Although NicheLabs does create Virtual Tours, we did not create the Virtual Tour mentioned above.