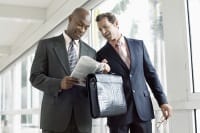 Need Credibility? Get PR?
As reported in a blog by marketing executive Chad Pollitt, news coverage, termed "earned media," is 80% more effective than branded content, or owned media, at the consideration and affinity stages of the purchase process. At the familiarity stage, which is closer to the actual purchase, news coverage is 38% more effective.
The study presented 900 consumers with three different types of content: expert content from credible sources (earned media), branded content (owned media), and user-generated content (such as reviews on Amazon).