How Much Can I Charge for Online Advertising?
Small business owners often seek our advice regarding how much they can and should charge for advertising on their website. The short answer is, "It depends."
First, determine the value of your online real estate.
The amount of visibility, website traffic and type of content all factor into the value of your website to potential advertisers. When determining the amount you can charge for advertising, ask yourself the following questions.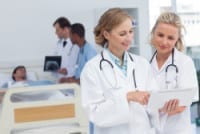 White Paper: Financial Benefits of Going Digital
Electronic Health Record (EHR) systems yield significant returns for providers, and costs associated with creating an EHR-compliant website or integrating EHR access into an existing website are minimal. Online design, development and marketing experts, NicheLabs creates both seamless EHR integration and lasting patient impressions online.
Be Afraid. Be Very Afraid.
"Cyber attacks cost small and medium-size businesses an average of $188,242, and almost two-thirds of victimized companies are forced out of business within six months of being attacked."
If you are thinking, "That won't happen to my business," keep reading.
Small businesses are more susceptible to cyber attacks than larger organizations. Hackers take advantage of the fact that small businesses usually have less human and financial resources to dedicate to online security. If you think hacking will only happen to "them," think again.