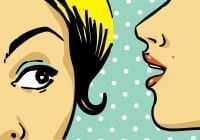 Word-of-Mouth Speaks Volumes
Word-of-Mouth Marketing has established itself as one of the most effective and cost-efficient ways for small businesses to get out the word about their products and services. In today's highly connected world, a good word-of-mouth strategy combines a number of techniques that are all designed to develop pathways that lead back to you.
Back when the Internet was coming into its own, word-of-mouth marketing was mostly a function of networking groups, some of which functioned – and still do – as lead-generation groups.