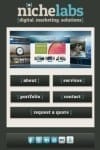 Responsive websites: What are you missing if you don't have one?
Last month, we discussed the benefits of a mobile-optimized website versus a mobile-friendly site. As you may recall, a mobile-optimized site is simply a mobile website designed for viewing just on a mobile device. After reading that post, you probably decided that when you take your site mobile, you want it to be mobile optimized.
But now that you've mastered that argument, here comes "responsive design."
What exactly is a responsive website? Should you or shouldn't you have one?