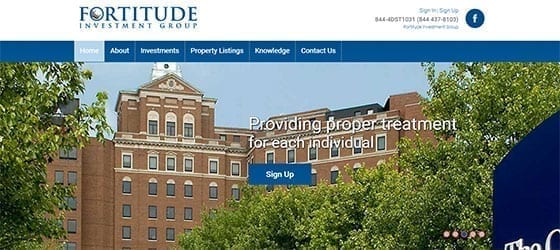 Form and Function for a New Venture
When it comes to offering financial products and services for alternate investments, the challenge is two-fold. The website needs to have a look and feel of elegance and a solid foundation of success – and visitors need to be able be able to find all the information they need about the products and services, as well as all the underlying legal information, to help them understand tax implications and financial risk.
NicheLabs helped Fortitude Investments meet those challenges when the firm needed a new website, 1031dst.com, to highlight investments for clients wishing to take advantage of 1031 exchanges. Based on Section 1031 of the Internal Revenue Service code, these investments allow investors to defer capital gains taxes from the sale of commercial real estate by investing in new properties of equal or greater value.
To provide investors and potential investors with the most accurate information, NicheLabs provided a design that emphasized a clean, open look that lent itself to headlines and clear navigation to content and links. The site also required a major editorial effort to make sure all the information clearly explains what kinds of investments can be part of 1031 exchanges or other types of alternate investments. Because many investments carry high risks, the nature of each risk and all the tax rules and ramification had to be explained as educational material. And all of that had to comply with rules from the SEC – Securities and Exchange Commission – that govern what information can presented and how it must be presented.
With so much information related to tax law and the language of rulings in various jurisdictions, the content contains numerous links. All of the links needed to be checked to ensure they were valid. In addition, information about all of the firm's principals had to include access to each of their pages on the Financial Industry Regulatory Authority's website, also requiring editorial and website development attention to detail.
Those needs are common to websites in this industry. Fortitude wanted to go above and beyond with a content management system would enable its owners and managers to add, edit and delete property listings. The property listings needed to include pictures, property descriptions and photographs along with other information, all designed to generate a phone call from an interested investor. Because the information comes from various sources, NicheLabs created a program that enables Fortitude's personnel to upload pictures and copy – words and dollar amounts – from the sources that offer the real estate for sale, and the site needed to display uniformly on all browsers and on all computers, tablets and mobile phones.
Because the property listings are one of the website's most valuable assets, access is restricted to investors who register to view them. NicheLabs worked with Fortitude to design a questionnaire that helps the firm qualify visitors as accredited investors. In addition to gathering basic contact information, the questionnaire has some questions about the property a prospective investor is selling and about what type of investment they are considering for the replacement or exchange property. With that information, the advisor who responds to the inquiry can better prepare for a phone call with the client or prospect. Telephone contact is a key driver because the firm wants to engage investors in conversation to provide the best possible options based on investor's goals and tax status.
NicheLabs further helped Fortitude by setting up a blog under the Knowledge tab. It enables the firm's principals to post their own writing or reprint articles from news outlets to make sure clients and prospects have the information needed to help make better financial decisions.
No matter how big and complex your business may be, Fortitude's 1031dst.com website shows how good design and navigation can deliver visitors to the information they need to make solid decisions on using your products or services. If you'd like to have a stronger visible presence, we invite you to contact us at 888-978-9254, or by sending us an email using our website contact form. We can also help expand your universe with news coverage and validate your customers' context with your website, SEO program or other marketing activities. We love to talk about marketing, best practices for SEO programs, brand messaging and content strategy.