Google Product Review Algorithm Updates – How to Maximize Updates for Your Business In 2022
Since 2021, Google has been focused on improving the quality of its Product Review algorithms. With this added focus comes new opportunities for your business to take advantage of where search engines are going and what you can do to be at the forefront of providing what they're looking for. Let's dive in.
Google's Furious Algorithm Updates Targeting Reviews
The first of Google's Product Reviews updates came to us in April of 2021. Then came an update to it in December 2021. Then came two more in 2022: one in March and the latest one releasing in July 2022. Google going through 4 separate, major releases to improve reviews makes it clear that they see improving the presentation of reviews in their search results as essential for their users. That should be enough for you to consider it important for your search engine visibility and potential traffic growth.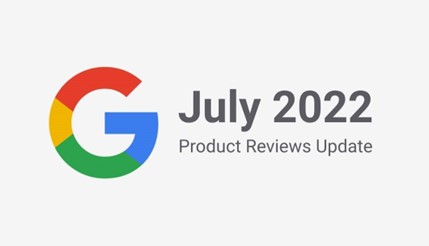 What Is the Goal of These Reviews Updates?
Google's Product Reviews updates are aimed squarely at promoting content that goes above and beyond the average review content you'll typically see around the web. They want to promote and reward content that is going in depth in its comparisons between product makes and/or models, providing honest feedback and lists of pros/cons, and linking to a variety of sources for where shoppers may find what they're looking for.
It's important to note that these are not penalization updates. That is, poor review content is not going to result in punitive action against your website. Rather, the goal is to bring forward reviews that have gone through real effort and testing and to put them in the most prominent positions to be seen by people who need the information.
Why Is Google So Interested in Improving Review Rankings and Presentation in Search Results?
Google is interested in improving the presentation of product reviews in search results because the data is clear: more consumers than ever are reading online reviews. According to Bright Local's 2022 Local Consumer Review Survey, 77% of online shoppers "always" or "regularly" read reviews when browsing for local businesses. We would expect similar numbers for shopping. Further, more than 60% of polled respondents said that they believed they had seen a fake review in the past year.
The essential function of a search engine is to provide its user base with trustworthy, credible information quickly and efficiently. If their search results are being filled up by junk, spammy, untrustworthy reviews, that essential function – a function that more than 70% of online shoppers depend on – is failing to work. Thus, search engines prioritizing improving how they rank, and value reviews makes plenty of sense. You don't want to see spammy reviews or clearly sponsored reviews that have no objectivity or balance, and neither do search engines.
What can my business do to take advantage of these updates?
These algorithm updates make it clear that search engines are hungry for deep, strong, critical, and balanced review content. Long, rich content that answers a user's questions. Critical and balanced content that does not show undue favoritism for any given product (unless it's just head and shoulders better). Content that is developed by someone who has been able to test the products being reviewed personally and is providing their own feedback.
To that end, here are some things you can do on your website to put your website in the best possible position to be seen and rewarded for great review content:
Develop comparison content between your products or vs a competitor's products if allowed. We recommend video that can be transcribed into supplemental written review content. This allows you to build trustworthy content on platforms like YouTube for people to discover now and into the future, while having crawlable text for search engines to index and rank.
Be prepared to let your reviewers speak honestly about the strengths and weaknesses of your products. Again, people want to hear the truth, unvarnished. While it's okay to not be 100% objective, you want to do the best you can to be objective and site strengths as well as shortcomings vs competitor products. You can always spend more time talking about why the strengths are more important, but trust is built with honesty. The more honest you are, the more people will trust you. Wallets typically do not open before trust has been established, further establishing the importance of balanced, honest review content.
Allow for user reviews on your website. User reviews are also used by Google to help rank pages and are a critical way to build trust in 2022. Again, more than 70% of online shoppers "always" or "regularly" read reviews, and those very much include user reviews, which are often given the highest level of trust as people leverage them to make buying decisions at the last step of the buying funnel. By enabling reviews on your website, you provide a way for shoppers to validate your claims of your product being great by way of people who have bought your products or services and have shared their positive experiences.
Review and leverage Google's guidelines for making high-quality review content. Google has developed a list of best practices to what they consider great, high-ranking review content:

Evaluate the product from a user's perspective.
Demonstrate that you are knowledgeable about the products reviewed – show you are an expert.
Provide evidence such as visuals, audio, or other links of your own experience with the product, to support your expertise and reinforce the authenticity of your review.
Share quantitative measurements about how a product measures up in various categories of performance.
Explain what sets a product apart from its competitors.
Cover comparable products to consider or explain which products might be best for certain uses or circumstances.
Discuss the benefits and drawbacks of a particular product, based on your own original research.
Describe how a product has evolved from previous models or releases to provide improvements, address issues, or otherwise help users in making a purchase decision.
Identify key decision-making factors for the product's category and how the product performs in those areas (for example, a car review might determine that fuel economy, safety, and handling are key decision-making factors and rate performance in those areas).
Describe key choices in how a product has been designed and their effect on the users beyond what the manufacturer says.
Include links to other useful resources (your own or from other sites) to help a reader make a decision.
Consider including links to multiple sellers to give the reader the option to purchase from their merchant of choice.
When recommending a product as the best overall or the best for a certain purpose, include why you consider that product the best, with first-hand supporting evidence.
Ensure there is enough useful content in your ranked lists for them to stand on their own, even if you choose to write separate in-depth single product reviews for each recommended product.
Conclusion
With 4 major updates implemented in just a little more than a year, Reviews are clearly a place that search engines want to clean up to maximize value to their users. By supporting reviews on your website and pumping out polished, rich reviews of your own, you can quickly find yourself and your content rewarded by search engines, resulting in major increases to your traffic and visibility. If you are unsure what the best way to get started or how to update your website to support strong review content, we encourage you to contact the web development, SEO and online marketing experts at NicheLabs or similar professional team.