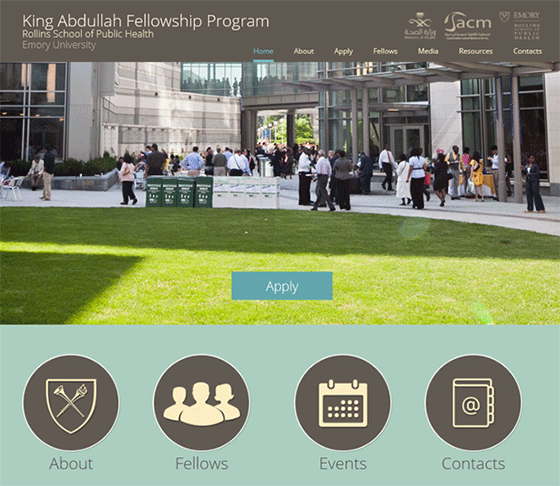 King Abdullah Fellowship Program Turns to NicheLabs for Mission Support
The Kingdom of Saudi Arabia (KSA) has made significant efforts to strengthen its healthcare infrastructure to combat chronic and infectious diseases through the King Abdullah Fellowship Program (KAFP) at the Rollins School of Public Health. But when KAFP needed to strengthen their website to strengthen their public health capacity in Saudi Arabia, they turned to NicheLabs for a redesign and improved organization and navigation. They saw this as a critical move to support their mission of engagement in collaborative research activities and the promotion of a bilateral exchange of students and researchers.
King Abdullah Fellows engage in collaborative research as a part of their program and graduate from Rollins having produced publishable work on public health topics such as diabetes, tobacco, hepatitis, vaccine- preventable diseases, and tuberculosis in Saudi Arabia. Furthermore, Rollins faculty develops collaborative research and spends extended lengths of time in the kingdom to perform program assessments.
One such instance of collaborative research occurred in 2009, when an American Emory MPH student spent her summer in Riyadh working on a tuberculosis research project. Her manuscript was published in the Annals of Epidemiology. Another instance of collaborative research took place in May 2011, when four American Emory MPH candidates traveled to Riyadh on a Global Field Experience (GFE) to work on diabetes and smoking control, antimicrobial resistance, and hepatitis projects, in collaboration with Saudi counterparts.
All of that work needs to be documented and easily found in searches on the website. Equally important, the website serves a role in marketing the fellowship program and its ties to Rollins and Atlanta to encourage the best and brightest in Saudi Arabia's public health community to apply for the program.

That's where they turned to NicheLabs. We redesigned the website to create a fresher, easier to navigate experience that provided complete information about the program, access to all the published work and access to all the documentation required for students to enroll in Rollins and come to Atlanta.
To make sure the site remains effective, the staff at Rollins needed the ability to update all the content quickly and easily.
NicheLabs responded with a site that's both comprehensive in the information that Rollins officials wanted and easily used with typefaces and type sizes that can be easily read by people who speak English as a second language. All links are also accessible through graphical icons. All research papers can be easily accessed, and the site has pictures and videos that give prospective students a clear picture of what they can expect when they come to Atlanta. The website also makes full use of social media, which have worldwide acceptance among the candidates the fellowship program wants to attract.
No matter what information you need to deliver, the King Abdullah Fellowship Program website shows how good design and navigation can deliver visitors to the information they need to make solid decisions on using your products or services. If you'd like to have a stronger visible presence, we invite you to contact us at 888-978-9254, or by sending us an email using our website contact form. We can also help expand your universe with news coverage and validate your customers' context with your website, SEO program or other marketing activities. We love to talk about marketing, best practices for SEO programs, brand messaging and content strategy.