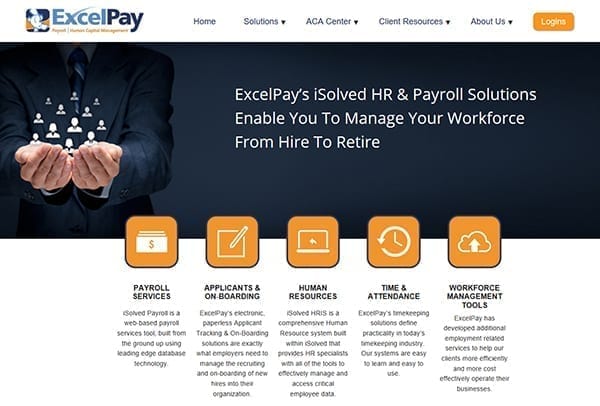 Updated Website Meets Dynamic New Needs
Because the world of human resources always changing, it made perfect sense for Excel Pay to update a four-year-old website and give it the capability to help clients meet their dynamic needs. By turning to NicheLabs to update a website we originally created for them, they used our knowledge of their business and the latest website technology to help their clients effectively manage their most valuable resource – their employees.
To illustrate how current Excel Pay's website is, it has an entire section of content devoted to the Affordable Care Act. Unless you've been sleeping in a cave for the past seven years, you know that it's a highly controversial set of laws and regulations that are likely to undergo change. Regardless of anyone's personal opinions, the human resources executives who form Excel's client base need to have the most up-to-date info – facts, forms and unbiased guidance – to help them design and deploy their company's HR policies.
The website has that information, and it's easily found – and available to anyone with internet access – from the ACA Center tab on the home page. We worked with the company to set up drop-down menus that provide an overview, reporting requirements and forms, and downloadable Excel Pay-branded documents to help clients and employees solve issues more effectively. Government forms and branded guides and help documents are also available from a home-page tab.
This is just one facet of the information-access requirements that Excel Pay had, and we met them with navigation and content systems that let them expand a process they already had. Our earlier website had a content management system, but that site architecture did not give them the ability to build libraries of information by adding new pages and linking them to the current menus. Where the old website had limits on words and images per page, new technology removes those limits and makes it easier to add all the words, images and links need to convey the information.
Visitors to the website can get to the nitty-gritty HR management tools from the Solutions tab at the top of all pages or from the graphic navigation. The icons for each of the solutions show up prominently when viewed on a desktop or in responsive mode from a mobile device. Responsive websites are critical because more people are using mobile devices in and out of the office. In this case, HR managers or staff members and employees can access the same information from anywhere the internet is accessible.
At individual solutions pages, visitors can find an overview for each solution and then links to more specific on-site information – and links to branded PDF files that can be downloaded and shared. If a visitor needs to access information about more than one solution, complete information on the solution and its components are located in a navigation area on the left side of the screen for desktop and laptop computers. In responsive mode, the solutions menu is at the bottom of the screen.
In addition to information, the site has a Logins tab that takes clients to the functional areas where they can manage payroll and time-keeping applications and records and where employees can manage some of their personal records.
No matter how you look at it, the design and function fulfills Excel Pay's tagline: Our goal – to bring it all together for you! 
Building on a successful relationship can help you bring it all together, too. We can update your current design, add functionality and improve your SEO and SEM by showing you where newer, more powerful internet marketing tools can build on your present foundation. Call us at 888-978-9254, or send us an email using our website contact form. An updated website, news coverage, advertising and a granular SEO program can help expand your universe. We love to talk about marketing, best practices for SEO programs, brand messaging and content strategy.