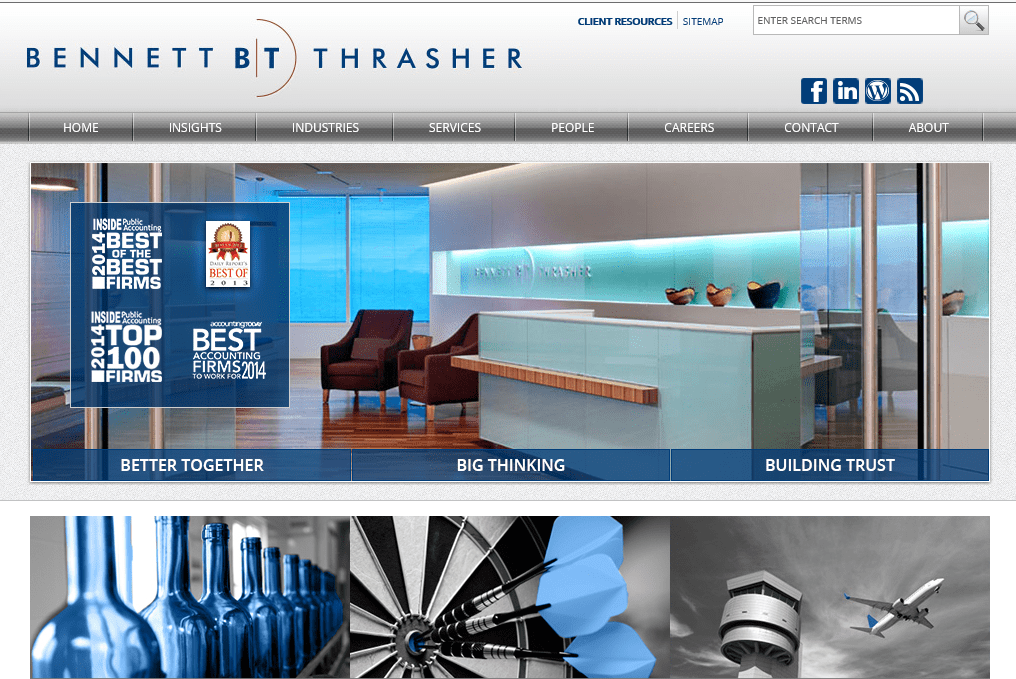 Bennett Thrasher wins 1st place in the best new cpa website design by NicheLabs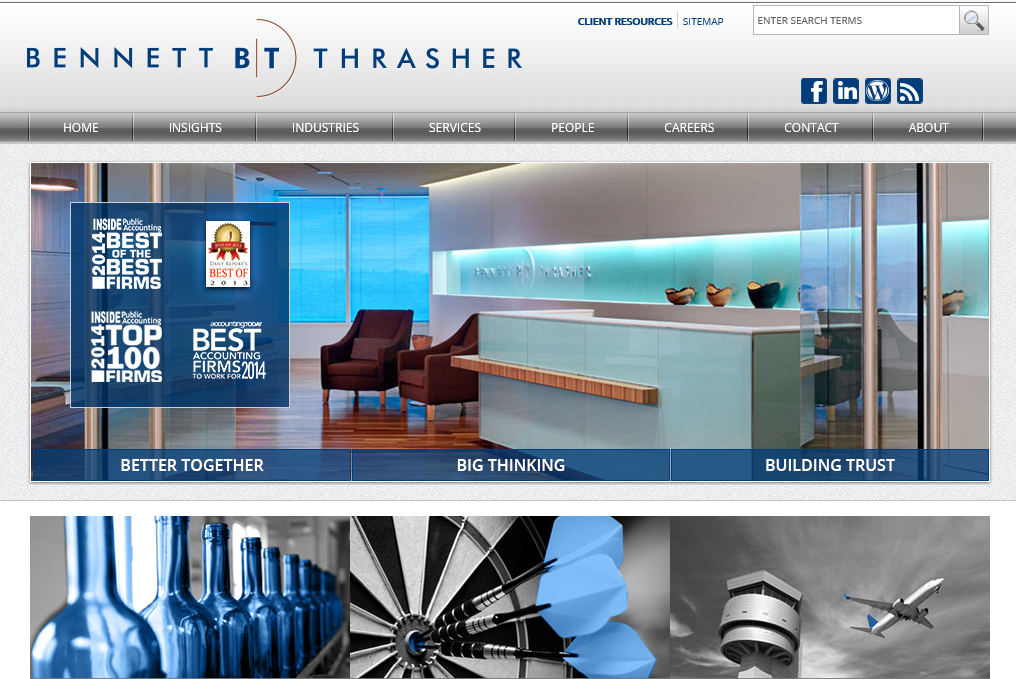 Bennett Thrasher is a CPA (Certified Personal Accountant) firm that believes in values above all else. And the core values of their founders, Ken Thrasher and Rick Bennett, permeate their business model. Integrity, family, and service to clients are the virtues that Thrasher and Bennett credit to their success. Since 1980, the firm was built on the principle that "You can't have an effective, high-performing firm unless the people agree on the values that they are willing to fight for."
With the support of their wives, Julie Bennett and Cathy Thrasher, their core values were united across a kitchen table; it was very important that these values were aligned in order to be successful business partners. Since that day, Bennett Thrasher has been attracting dynamic professionals and clients that agree on the importance of family values.
When the two Price Waterhouse accountants made the decision to join together for their families, they also set the tone for a different kind of firm. Ken and Rick believed in a firm composed of people who are valued and respected; this has made them one of the largest and most respected firms in Atlanta and in the United States.
Bennett Thrasher offer an array of financial services including financial reporting & assurance, tax services, litigation/valuation, client accounting services, and wealth management. The firm offers business consulting and is experienced in growing businesses internationally; they have been helping individual investors as well as inbound and outbound international businesses to reduce their worldwide tax burdens while fulfilling financial reporting requirements.
Bennett Thrasher needed a website that effectively reflected their values that set them apart from fierce competition; it was important to improve the communication of their brand and services to their clients and prospects. They wanted to highlight their many awards and improve their search engine rankings. 
NicheLabs identified and understood the firm's differentiators. We helped them stand out with a top-notch CPA website-it is powerful, cutting edge, and informational, and gave them a content/SEO driven online presence. The site is a custom redesign that clearly exemplifies Ken and Rick's vision. A CMS (Content Management System) was put in place to allow them to add and edit content. The site also features an extensive menu system and people directory. 
Bennett Thrasher won 1st place in the best new website design category for "Firms With $25 Million or More in Revenue" at the Association of Accounting Marketing's 20th annual Marketing Achievement Awards. We have been invited back to continue our relationship with the firm for a new project. This project is for Bennett Thrasher's new division; BT Wealth Management, LLC and will mirror the main site on a smaller scope.