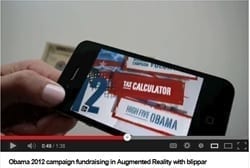 Up High…Down Low…Too Slow!
If you have ever met anyone famous, you understand the nervousness and excitement that accompany the experience.  However, once you've met him or her, how can you prove your story?  Imagine showing your friends that you met the President of the United States.  Better yet, wouldn't you love to brag about how the two of you became fast friends?
Last month, we featured a piece on how companies are tapping into consumers' increased mobile usage to reach them on-the-go.  Companies are using integrated marketing initiatives, including QR codes, image recognition and augmented reality to bring physical print marketing to life.  By doing so, their brand messaging is available whenever and wherever their target audiences go. 
In the above-referenced post, we cited Blippar™ as a creator of applications for viewing code-embedded images on smartphones.    Last Fall, the Democratic National Convention (DNC) hired Blippar to create and execute an application to engage mobile users and stay top-of-mind with voters as part of the "We got your back, Obama" fundraising effort.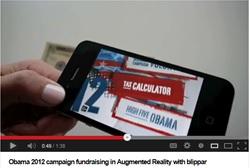 After downloading the Blippar app, voters were able to blip a $5 bill or any Obama logo to launch an interactive user experience.  Users could then choose volunteer, listen to music, donate and even high five Obama.  If the DNC utilized augmented reality in the 2012 Presidential Election, we can reasonably infer that mobile marketing is increasingly getting the attention of mass mobile audiences. 
As we continue to feature advancements and capabilities within mobile marketing, please visit our blog for future posts, connect with us on Facebook and Twitter to receive alerts when new information posts, or subscribe to our monthly newsletter to read summaries of our monthly posts. 
Please contact us at sales@nichelabs.com or call 866.413.7952 if you have questions about creating a mobile website or reaching your target audience through mobile marketing.