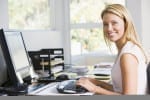 Get a new look for your Twitter page
If your business has a Twitter page, you'll be happy to know that on Sept. 18, Twitter announced a whole new look. New profile formats allow you to make your Twitter page more dynamic, with a larger profile photo and new backgrounds. The new profile designs let you give your Twitter page some of the lively look and feel now possible on Facebook since its recent redesign.
An example of the new look is at https://twitter.com/todayshow, one of the first new profiles created. As you can see, the main photo, now much larger, is on the upper right, with easier to read informational tabs right below it.
You can upload your new header photo to any of your Twitter apps – iPad, iPhone and Android as well as twitter.com – and it will appear on all of them instantaneously. Your website Twitter page will also have a choice of backgrounds, as it does now.
If your business doesn't have a Twitter page, here's why it should
Twitter, used by millions of people worldwide, is free – which means it offers small businesses like yours a way to communicate with customers without breaking the budget.
Each Tweet of no more than 140 characters gives you a simple way to tell your customers about new products and new pricing while also letting you hear how they feel about your company, your products and your services. How else can you get free market research that you can use to refine your brand?
Where to get help with Twitter
Let Atlanta web design firm NicheLabs.com help you with Twitter – whether you need basic set-up or redesign using the new format. We can set you up and link your Twitter account to your website. For more information, please email us a sales@nichelabs.com or call 866.413.7952.