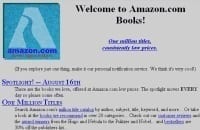 Has Your Website Kept Up with Your Business?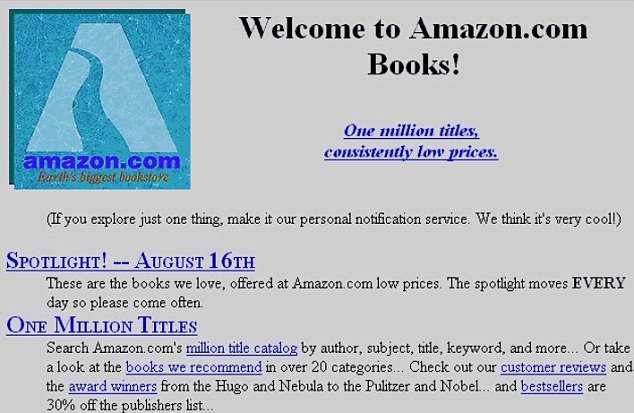 Amazon.com, circa 1995
Think for a moment how your business has changed over the past year or 3.   Do you offer more products and services? Have you expanded to new markets or locations? Are your customers using your products differently or more innovatively? Has your business climate or marketplace changed? Is your old creative website design experiencing a decrease in website traffic and/or business?
Nearly every business can answer yes to 1, if not all 5 questions.  Which should prompt you to ask, has my website kept up with changes to your business model? If your business, your brand message or your product offering  has changed and your website hasn't, then you need to assess your website, refocusing your message through fresh content and creative website design, and possibly different functionality.
A blog post by Alamo Websites offers a good checklist for updating an existing website. We could take issue with some of the points — we believe that content and creative website design are not a D-I-Y project or one for web-based services such as Fiver  — however, we like the steps listed.
We could write a separate blog on making sure content and graphics work together and how content – written and video – needs to work with SEO. In fact, we will be doing that in the near future. It ties together with updating your message and your image.
That's where NicheLabs comes in. Our professional branding specialists, designers, content writers and programmers can work as a team to help you keep your marketing up to date with your business reality. We are a full-service agency for businesses that don't have a CMO or VP of Marketing or that don't have the people or time to do website design, manage SEO and digital/ direct marketing campaigns. As part of your team, we can create the channels for pushing out your content and work with you to get the information out to your targeted market. 
For more tips and insights about digital marketing advancements, connect with us on Facebook, LinkedIn or Twitter or subscribe to our monthly newsletter to read summaries of our weekly posts.
Let's talk about creating a website as part of a marketing program that speaks to your customers today. To speak with our team, please email us at sales@nichelabs.com, call 888.978.9254, or if you are mobile, visit us on your smartphone.