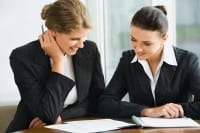 How Can You Be a Better Advocate for Your Clients?
Further to our post last week about the importance of collecting insights from customers and prospects to find out what you are doing well and what you can improve upon, this week, we are exploring ways you can show appreciation for your advocates.
Inspired by Wendi Alpine's recent post on client advocacy, we pose the following questions and ask you to reflect upon how they apply to your business.
How do I recognize my clients, vendors, partners and/or customers?
At what point in our business relationship can I request a recommendation from a client or partner?
Do you offer to provide recommendations when they are merited?
Are you consistent with the frequency of your external communications to your advocates?
Current projects and approaching deadlines all too often command our immediate attention, but we all need to take time to recognize one another's successes. A few of the ways that we suggest recognizing and being an advocate for your business advocates include:
linking to your clients' websites – Include links on your website to your clients' websites to help drive additional traffic to their sites.
providing attribution in your monthly newsletters – Highlight clients who are succeeding in their respective industries and how.
As this year comes to a close, take advantage of this slower, quieter holiday month to evaluate how you are you nurturing your advocates' successes and how you can improve in the year ahead.
As the digital marketing agency for B2B and B2C clients with limited marketing staff resources, NicheLabs is a trusted advisor and results-driven service provider. Email us at sales@nichelabs.com, call 888.978.9254, or if you are mobile, visit us on your smartphone. As we continue to feature digital marketing advancements, connect with us on Facebook, LinkedIn or Twitter to receive alerts when new information posts, or subscribe to our monthly newsletter to read summaries of our weekly posts.
To learn more about NicheLabs' partner and PR firm founder, Wendi Alpine, visit www.alpinepr.com. Alpine Communications creates programs that attract media attention and achieve real results, which complement and are coordinated with the marketing strategy, online marketing tactics and web design offered by NicheLabs.