LinkedIn launches an improved new way to reach customers, peers and employees
Imagine having a second website that communicates directly with people you have the most in common with – customers, peers, employees, even competitors – and having it at no charge to you.
To catch up with Facebook and Twitter, who have both moved into the business space and have recently gone through major redesigns, LinkedIn has launched a whole new look and feel for its company pages, based on a simpler look and feel, more relevant information streams and new ways of learning and communicating what's happening.
As with all of its recent changes, LinkedIn is rolling the new company pages out in phases. The first ones were launched in early September. To see a few, first sign in to your LinkedIn account and then go to Philips, Citi, HP or Dell.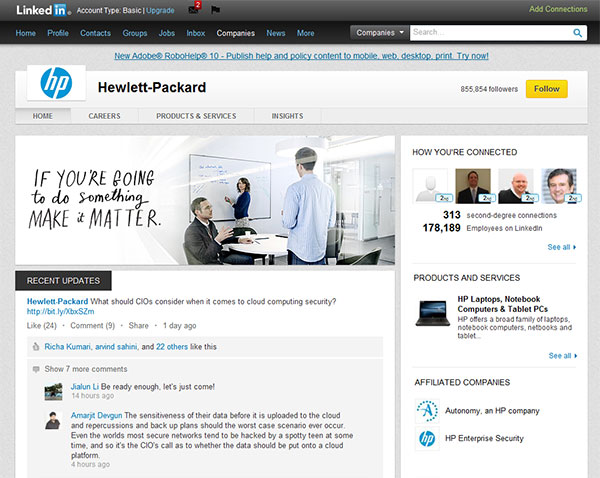 A small branded website for reaching other businesspeople
The first thing you'll notice is that the new company page is really a miniature website.
The left side of the page is devoted to company identity and news. A limited drop-down menu offers four tabs: home, careers, products and services, and insights. The right side is devoted to your own relationship to the company – people you know there, possible career opportunities for you and products and services that might interest you.
Because the layout is simple and impactful, starting with a large photo and headline at the top of the page, it offers a strong branding opportunity. HP  in particular makes good use of the opportunity, with an eye-popping photo and headline drawn directly from its current highly emotional TV campaign  "Make It Matter."
If you compare the four sites mentioned above, you will notice great variety in how each presents itself – the essence of branding. You'll also notice that two of the four are definitely better designed and more impactful than the other two. Good design is now a clear necessity on LinkedIn. So is smart marketing.
The ultimate benefit of these changes for your small business is a very accessible way to build your brand, promote your products and services, connect with customers and employees and search for new hires – all on a single page. For all of this, LinkedIn charges you nothing.
Are you ready to take advantage of this opportunity?
Atlanta web-design firm NicheLabs highly recommends a LinkedIn company page for all small businesses. With LinkedIn's more than 175 million members as potential visitors to your page, can you afford not to have a LinkedIn company page? If you need help setting up yours, please email sales@nichelabs.com or call 866.413.7952.