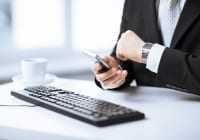 When to Send That Email (or Not)

"It was the best of times, it was the worst of times…" is the first part of the famous opening sentence to Charles Dickens' classic novel, A Tale of Two Cities. It's also the start of an answer to classic discussion about determining the best time to send an email blast or newsletter for your email marketing campaign.
Email can be a powerful tool for reaching customers and prospects, and it's still one of the primary ways for us to communicate even in an age with so many social media channels. You always improve your odds for success by sending that email – whether to a single person, a tightly targeted group or a huge mailing list – on the best day at the best time for that target to be receptive. A lot of considerations go into determining that magic moment, and there is no shortage of opinions. Just Google "when to send an email," and you'll see for yourself.
One of the most recent posts that caught our eye was from PR Daily, which reported on a fact-and-figure-filled post by Get Response, an email software provider. The facts are based on an analysis of some 21 million email messages. For some readers, this may be new information, and for others, it may reaffirm what you already knew or suspected.
In a nutshell, timing is everything.
As for the hours sent, findings are:
23.63 24% of all emails are opened within the first hour; that number drops off precipitously as the hours tick by
Most emails are sent from 6 a.m. to noon; the least amount are sent from midnight to 6 a.m.
The hours that see the most click-throughs are 8 a.m. and 9 a.m., and 3 p.m. and 8 p.m.
The hours that see the most opens are 8 a.m. and 9 a.m., and 3 p.m. and 4 p.m.
As for the best day, Get Response's figures from a previous post lean toward the weekdays. However, a couple of caveats come immediately to mind. If your primary targets are retail shoppers, than Saturday or Sunday mailing should work better for you.  And, some people believe – very strongly, in some cases – that corporate managers and some other professionals are more likely to read your emails on a weekend morning, somewhere in between the hectic work week and weekend family time.
Within the seven days and 168 hours in the week, there's a good time for you to conduct your email marketing campaign.
We invite you to partner with us to pinpoint the best day and time for your email marketing campaign and well as test subject lines and develop content strategy to maximize your email's impact . We'll help you develop a strategy that fits your business plan because we know you have a bottom line.
We specialize in small business marketing and communications, and we know how to work within your budgeting needs.  When you need marketing but don't have the time it, we're your solution.   For more tips and insights about digital marketing advancements, connect with us on Facebook, LinkedIn or Twitter or subscribe to our monthly newsletter to read summaries of our weekly posts.
To speak with our team, please Email us at sales@nichelabs.com, call 888.978.9254, or if you are mobile, visit us on your smartphone.