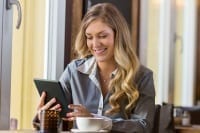 Why Grow Your Email List?

As much as we love social media – and as great as they are for engaging customers and prospects to build trust – email remains a highly effective tool for targeted messages to get a response for a specific reason.  Isn't that what it's all about?
Generating a response only requires that you be relevant to customers and clients. This is the key to growing your list.
A blog post originally posted on Advertising Week Social Explorer provides a lot of really good tips for growing your email list. They should stimulate a lot of good, strategic thinking about whom your target is and the best ways to tie your product or service to your website and marketing tactics such as email and social media.
Above all, have something useful or interesting to say or offer. People are busy, and the first thing they look for in an email is: "What's in it for me?" If you want your customer or client to pass along your email to a prospective business source for you, offer them a reward – access to a white paper, a Top 10 tips, a demo or a consultation. You can enhance that with a reward to their referral. The goal is to encourage them to join your email list because – as we all know – opt-in is the best way to minimize spam problems. Bottom line:  be relevant to your customers and prospects.
Here are some other ways to entice people to contact you – and gather their email addresses:
Use social media conversations directed to your marketing strategy. Good referral marketing is not accidental. You can use Tweets, Facebook likes and comments on LinkedIn groups to create traffic to your website. As we've discussed before, don't just direct responses to your home page. Direct them to landing pages on your site where you can provide them with specific information or request specific action, such as subscribing to your email list.
Put a video on your website – and consider creating your own YouTube channel if you have several videos. Videos show what your product or service is all about, and how-to videos show your specific solution. You can drive traffic to that video through an email and social media conversations, and you can encourage visitors to subscribe to your email list.
 Buy advertising space on a website frequented by your prospects. It could be a Google search page, where you might buy ad words, or a publication, such as a trade journal or local newspaper.
 A robust email list can be one of your most valuable assets, and you can integrate a number of marketing tools to build it. As a full-service agency for businesses that don't have a CMO or VP of Marketing or don't have enough website development and digital/ direct marketing resources (people or time), Niche Labs can help you integrate social media and website content with email marketing for a total digital solution. 
 For more tips and insights about digital marketing advancements, connect with us on Facebook, LinkedIn or Twitter or subscribe to our monthly newsletter to read summaries of our weekly posts.
 To speak with our team, please Email us at sales@nichelabs.com, call 888.978.9254, or if you are mobile, visit us on your smartphone.  Let's work together to package your program.