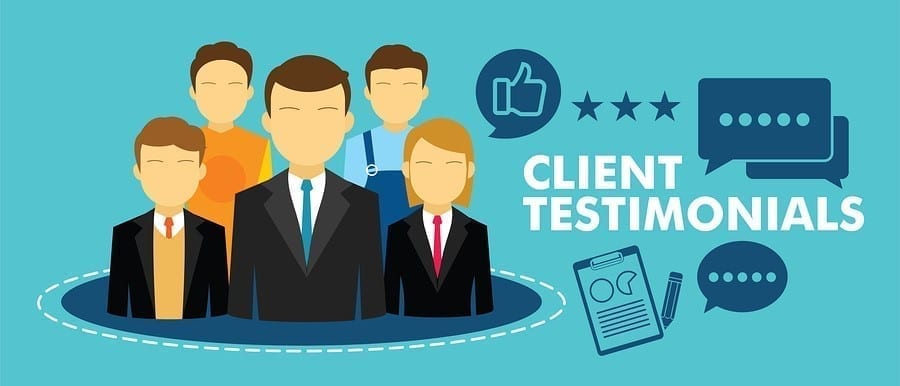 Customer Testimonials to Reinforce Your Message
Customer testimonials are one of the best tools known to marketers for reaching new clients and customers. But effective testimonials don't happen by accident. They happen because you have tied someone's problem and your successful solution to your prospect's pain.
Testimonials have many subtle complexities, but they should all boil down to a personal example of your client or customer got the right solution from you. And while it's their story about your solution, you need to make sure it's the story you want prospects to see – a story that connects them to the product or service you want to provide. It's the story that helps them envision their own successful outcome.
What should your process be to use customer testimonials effectively?
First, it's matching them to your business goals and then to marketing messages that will support reaching those goals. What product or service do you want to sell, and who do you think will buy it?
Then, look at your customers' or clients' success stories. This is where you get into all those subtle complexities.
Whose problem represents a substantial community of people or companies you're targeting? You can have more than one problem, but keep it focused on one or two problems with multiple success stories. That will enable you to better focus on the target you want to hit.
Who has a really good story to tell and can you make it universal to your focused target group? You want your prospects to see themselves in the story. They may have a similar problem or may be in a similar business.
What did your solution do? Did it have a financial benefit (especially for B2B)? Did it get rid of a major problem in somebody's home? Did it satisfy a strong desire or impulse?
Can you tell the story through multiple media? Can you boil it down to three sentences: problem, solution, results for a website post? Can you add a picture for further personalization? Can you write an article for use on your website or in the news media? Can you produce a video testimonial? The more ways you can tell it, the merrier. Just maintain your focus on your business goal.
Good stories with focused messages can lead to good results. Stories with appeal can generate good leads from the people who see them. Good stories have a better chance to be forwarded to prospects or go viral through social media. Stories that hit key, focused messages have a better chance of winding up higher on searches.
This is where NicheLabs can help. As a digital marketing firm, we bring you the expertise of professional writers, designers, web developers and experts in social media marketing (SMM) and search engine optimization (SEO) who team up to develop and execute strategies to tell your customers' stories to your prospects. We can complement your content with website updates and digital marketing campaigns, including email blasts and pay-per-click advertising. If you'd like to start a conversation now, we invite you to contact us at 888-978-9254, or by sending an email using our website contact form. We love to talk about marketing, best practices for SEO programs, brand messaging and content strategy.