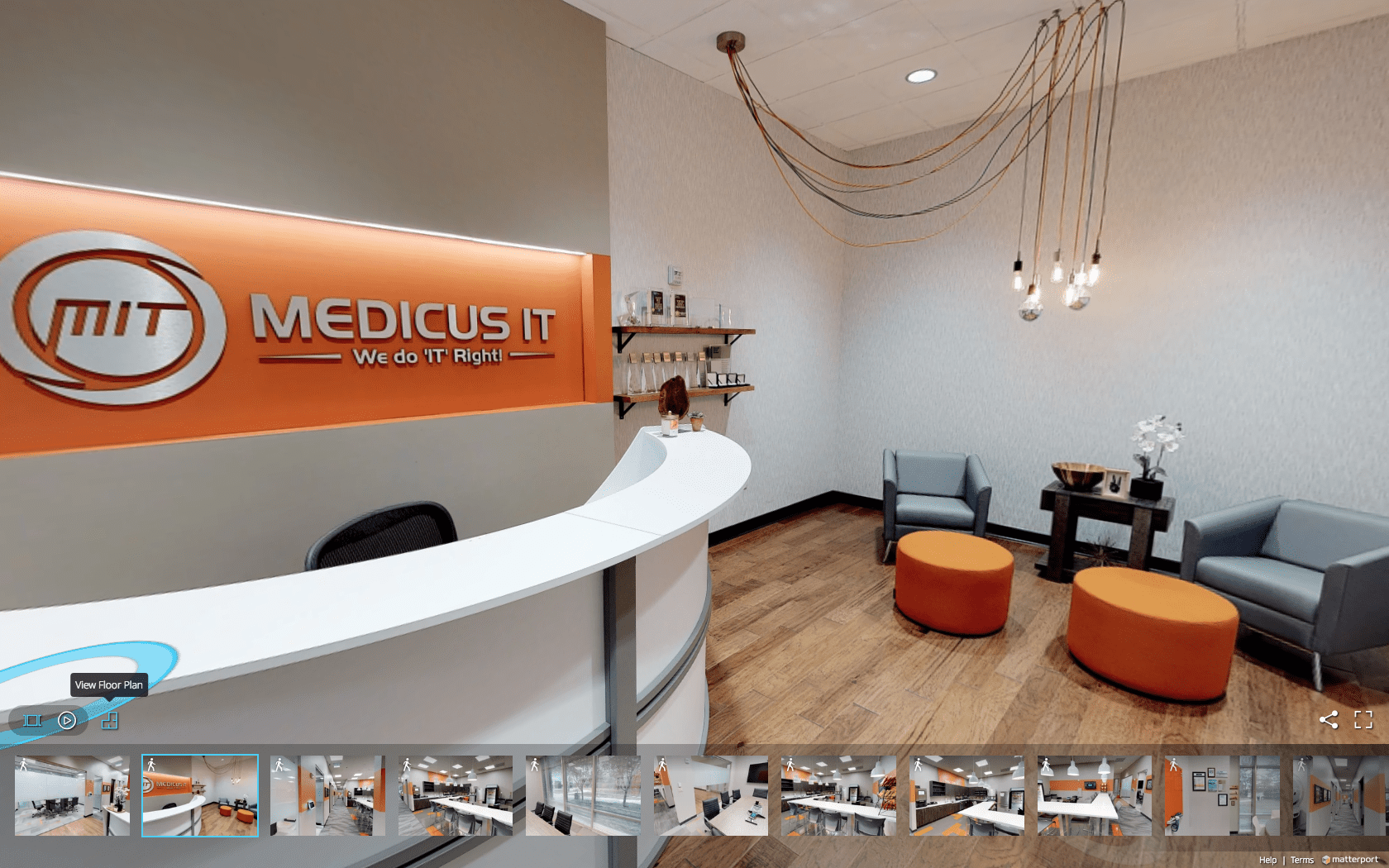 Invite Your Customer Inside; The Benefits of Virtual Tours
We are all busy people these days; it's a rarity for a customer to scout out a product or service by simply having a look around town. Besides word-of-mouth, how do we find the best pizza in town, someone to fix our broken smart-phone screen, or a marketing firm to get our businesses seen on the web? Google tells us that consumers use mapping tools (like Google Maps) 44% of the time when they are searching for businesses. After they find you, they need a reason to learn more and request your services or products. The longer they engage with your site, the more likely they are to make an appointment, visit the store, or buy the product. A Google Street View Virtual Tour is an easy, low maintenance, one-time investment that lasts forever and can increase both web traffic and in-office/store visits.
Google Street View Virtual Tours are an addition to the Google Maps platform. Anyone with a physical location listed with Google My Business can integrate a tour into their listing. As one of the most high-impact marketing tools available, a virtual tour literally gives a potential customer the ability to move around inside your business, choosing what they want to see.
Meet Medicus IT, a leading Healthcare IT Support Provider serving the Southeast. NicheLabs gave Medicus IT the power to leverage Google Virtual Tour Technology and showcase their beautiful office in Alpharetta, GA.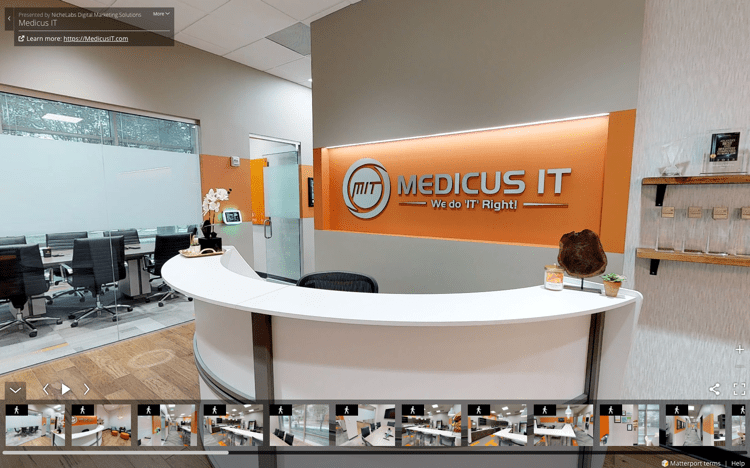 What does the 3D tour tell us about Medicus IT?
The vibrancy of their office exudes the energy of their brand. Polished and professional, the space gives the correct impression that they are a successful business.  Any website can go on boasting for paragraphs about how fantastic their product is or how long their client list is. Why not just SHOW the prospective customer the fruits of your labor and instill the confidence that you are an established, active business. The most powerful copywriting imaginable still could never produce the impact that we get from this virtual tour.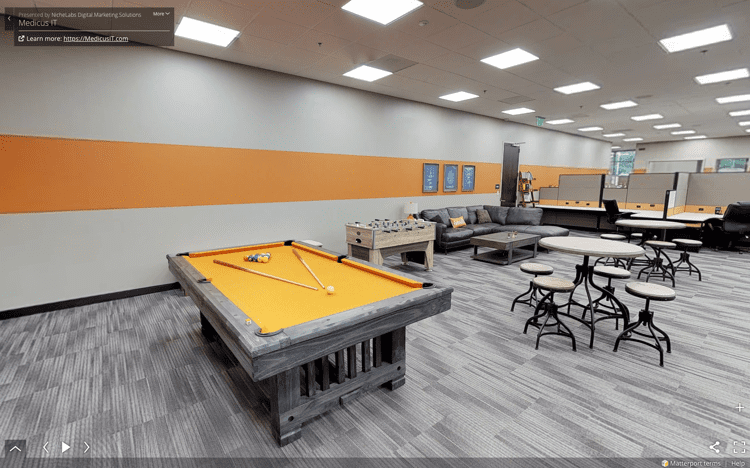 In order to take care of your customers, you must first take care of your employees. We are able to see the office lounge area, complete with comfy couch, pool table, and even a foosball table. Notice how it is right next to a mass of spacious cubicles; In fact, the whole office has an openness to it. Have you ever dealt with a company that seems like they don't talk to each other at all? It's hard to imagine that happening here! This Virtual Tour allows us to SEE that they promote an atmosphere of open communication and idea sharing, leaving less room for customer objectives to get lost in translation.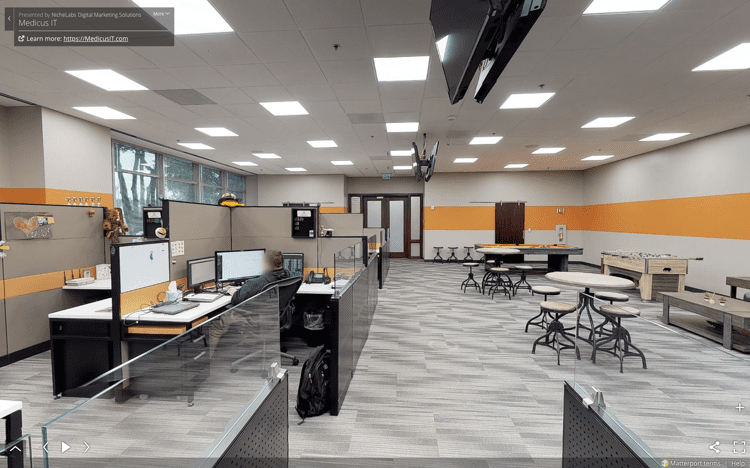 Notice the adorable "DADDY" drawing from an employee's son or daughter. Clearly, you will not be dealing with "robots" if you call Medicus IT.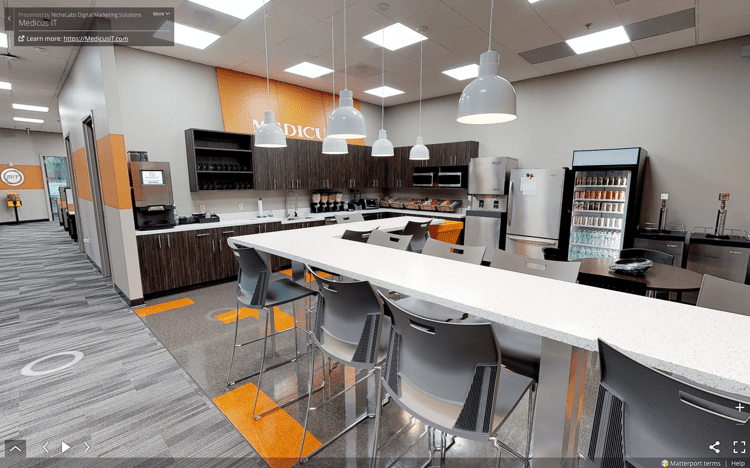 "Take a walk" down the hall and you will see the impressive lunch area. They clearly care about employee experience.
There are so many positive mental notes that the visitor can infer as they navigate through this 3D tour. The interest it creates quickly turns to interaction to see and know more. Click, Click, Click!
Google Virtual Street Tours Enhance Your Online Visibility
When it comes to online presence, it pays to look good, but it is important to understand that you are also aiming to impress Google's algorithms. There are certain factors that Google looks at to determine whether your business is relevant to a community, including distance. What better way to show Google that you are a real and credible business than visual proof that you are where you say you are?
Beyond instant credibility, virtual tours help to boost your Local SEO, search engine rankings, and website traffic. The point of local SEO is to increase your visibility in your community.
After searching, "IT company near me," the user may see a box on the right side with information about a local IT company such as hours of operation, phone number, address, and reviews. This box is called the Knowledge Panel. One of the sources that "influences" the Knowledge Panel is Google My Business. Google Street View Tours are a great way to optimize your Google My Business Page, improving your Local SEO.  Google's research indicated that 41% of the searches through mapping tools (mentioned earlier) resulted in site visits, and business listings with photos and virtual tours were twice as likely to generate interest.
More Interaction = Enhanced SEO
Click-through rate is another factor that tells Google whether you are important or not. It is a measurement of how successful an ad, post, campaign, or link is at capturing interest.  It is calculated by dividing the number of clicks (interactions) by the number of impressions (views). Increase click-through rate by getting your users to interact! It only matters that you are found if users visit your site and stay there long enough to complete a desired action. If your content is boring, why would they stay? If you fail to give them a reason to look any further than your landing page or homepage, you will have a high bounce rate and a low click-through rate.
To improve click-through rate, you can embed video, photos, text, and links in the tour that, when clicked, will redirect the user to another landing page or part of your website that calls for an action. Ex. When the user views the reception desk or cash register, they see some sort of call to action, like a "Book an Appointment" or "Order Here" button that takes them straight to a reservation system or contact page.
Besides your My Google Business Page, how can you use your virtual tour?
Embed it in your website or feature it on a dedicated landing page
Imagine a tab in your website menu titled "See Inside." The user sees a large, vivid, 3D tour pop up. There is a slim chance of them not clicking one of the arrows to move around and explore. Congratulations, you've just engaged your potential client by providing an interactive experience. Visitors will stay on your site longer and are more likely to hop from page to page.
Integrate into your Facebook page, Facebook ads, and feature in your social media posts
Think of how many times you have clicked on a picture on Social Media to enlarge and get a better view. Posts are more enticing when they include a virtual tour that users can interact with to view from different perspectives.
Add audio, video, links, and info…
…to get even more clicks and redirect to more pages. Remember that click-through rate!
A Google Virtual Street Tour is a real "set it and forget it." No campaign necessary. If you would like to invite your future customers in before they even leave home, contact NicheLabs to create your Google Virtual Street Tour today.