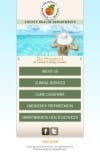 Government Health Provider Goes Mobile with NicheLabs
You've seen their health clinics while running errands, but just when you need one, you can't remember where they are.  You are short on time and need the information quickly.  Soon, you will be able to access critical health services information quickly and easily with your mobile device.
Fueled by the vision to protect and improve the health of its community, The Gwinnett, Newton, & Rockdale County Health Departments (GNR Health) is excited to soon provide frequently-accessed information to mobile users. Serving people who live, work and play in its community, GNR Health offers a range of essential health services, including providing health care, promoting healthy lifestyles, regulating and inspecting restaurants, hotels and pools, tracking and investigating infectious and chronic diseases, and planning for and responding to disasters that affect the community's health.
With its search for a website design and development firm underway, GNR Health was referred and reached out to the Atlanta website design team of NicheLabs.  Headquartered in Atlanta, website design and digital marketing firm, NicheLabs will work closely with GNR Health to design, develop and launch the government entity's first mobile website.
GNR chose NicheLabs because of the professionalism of its website portfolio and because their services are well worth the price.  Even though GNR used a competitor firm to create its desktop website, they were drawn to NicheLabs' reasonable pricing structure designed to accommodate small- and medium-sized businesses. 
Upon completion, GNR Health's mobile site will provide quick access to clinic locations and services, community disaster services and local business health inspections.
For more than seven years, NicheLabs has created websites and online marketing programs for close to 1,000 mainly small-to-medium-size businesses.  To learn more about how your company can benefit from online design, development and marketing counsel, please email NicheLabs at sales@nichelabs.com or call 866.413.7952.  In addition to Atlanta, NicheLabs has offices in Naples, FL and Charleston, SC, and serves clients locally in the Southeast, as well as companies nationwide.