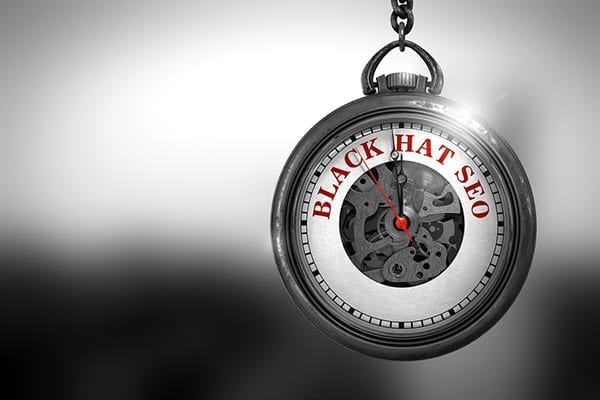 Black Hat SEO Can Send Your Website into a Black Hole
Are you impatient to get to the top of Google rankings super-fast? It sounds so tempting when an SEO huckster promises to get you there faster than you imagined – especially with a money-back guarantee. We've seen too many cases where an SEO company has delivered the goods as promised and then left companies holding the bag because they used "black hat" tactics that run afoul of Google's standards.
Whether you use NicheLabs or another reputable digital marketing firm for your SEO, you should be aware of the tactics some organizations use to get you up there – and dropped into a black hole in the cyberworld.
Black Hat SEO is the term given to practices disapproved by webmaster guidelines from Google, Bing and other search engines. While they work quickly to increase a page's ranking in search engine results, they typically violate the search engine's terms of service. The consequences can result in a site being banned from the search engine and affiliate sites. Black hat tactics and strategies are well-known to SEO practitioners and documented by Google and Bing, just to name two search engine sites.  Google penalties, for example, are getting more and more sophisticated and can devastate your rankings and traffic.
If your offense is considered serious enough, Google could de-index your website, which essentially means you don't exist. Resurrecting your website can be a long, tedious process that requires special knowledge and tools.
Black hat practitioners use a variety of tools and techniques to achieve their ends of giving you quick results. They include manipulating content with anything from over-optimization to a host of scams that include downright lies to copywrite violations. They include link manipulation to build traffic and backlinks. Some SEO scammers will use a lot of spam techniques, set up crooked websites or even plant negative reports about your competitors.
Whatever techniques they use, they're buying time with your money. At some point, Google's many algorithms will find toxic content and techniques and start to penalize your website. (You can read about Google's web factors in our archives.) But until that happens, you turn up high search rankings.
How can you avoid the pitfalls of black hat SEO? Besides the obvious step of making sure you hire a reputable SEO provider, we recommend you take a long-term view and do your homework.
Do your keyword research. Know the search terms your prospects use to find your business. This is an art and a science. Tools to help you find them are abundant, and the results have good statistical backup. But somewhere in the list, you'll get a gut feeling about which keywords can work best for you.
Make a long-term commitment. Search-engine success doesn't come overnight. We can use a lot of tools to help you create an SEO program, but it takes constant attention and readjustment to fine-tune keywords and content to reach the prospects with the most likelihood of buying what you sell. The businesses with the best closing rates from internet traffic are those that constantly analyze and modify keywords and content to resonate with their buyers.
Publish high-quality content. Google's algorithms are much tougher to fool than a teacher reading a research paper. They can analyze copy to make sure it's relevant and true, and they can verify the quality of links to and from your website to give you a passing or failing grade. Come to think of it, teachers today use similar tools to grade research papers, so…
Have a working understanding of how Google determines rankings. Hundreds of factors affect Google's rankings, so don't expect to know all of them. But understanding how they work will help you work more effectively with an SEO provider to achieve and maintain the rankings you need to be successful.
SEO and a digital marketing program are tools to keep your business running and to make sure you stand out from the crowd. We can help you design and develop programs that meet and Google's requirements and yours. We can complement your program with website updates and digital marketing campaigns, including email blasts and pay-per-click advertising. If you'd like to start a conversation now, we invite you to contact us at 888-978-9254, or by sending an email using our website contact form. We love to talk about marketing, best practices for SEO programs, brand messaging and content strategy.