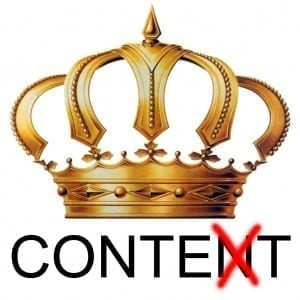 Content vs Context in Business, Marketing and SEO
As we welcomed another new client to the NicheLabs family recently, the program kickoff call showed the great insight that our client has.  While the partners of the company asked us about best practices for website design and website development, our conversation turned to attracting more visitors to the website, be it through SEO best practices, referral networking, or influencer marketing.  When you think about it, attracting more website visitors and having the website generate more connections is a primary process of marketing in 2016.
As we discussed the importance of content strategy and the related content management process, we agreed with the decades-old adage that "content is king; engagement is queen."   And you have to keep both of them happy.   What happened next confirmed that our client got it when he replied, "Yes, content is king and context is godly."  It is something similar to what entrepreneur Gary Vaynerchuk said.
I love it when someone can take a complex idea and put it into such few words.  So concise. So simple.  It reminds me of a quote attributed to Voltaire, Ben Franklin, Abraham Lincoln and Mark Twain: "I didn't have time to write a short letter, so I wrote a long one instead."
"Context is godly" is such a key message, whether it is creating a strategy, an SEO program or

product requirements.  For example, if your website is for ecommerce, then intuitive usability is as critical as the content on the page.  If your website is your brochure, the initial message being consistent with your brand is as critical as the content on an About Us page.  You may have multiple target audiences; again, the initial message being consistent with your brand is as critical.
A top content marketing program, a top SEO program or a top referral networking program need to incorporate the context.  If you're an empathetic person, it is natural for you to think like the other person – the other person being your prospect, your customer, or your buyer.  And when you think like your buyer, you can determine what context is needed for your message, your demo or your visuals.
Our thanks to Oxxford Relocation for their poetry.  We are confident this business relationship intended to help their website and SEO will quickly be productive.
If you'd like to validate your customers' context with your website, SEO program or other marketing activities, we invite you to contact us at 888-978-9254, or by sending us an email using our website contact form.  We love to talk about marketing, best practices for SEO programs, brand messaging and content strategy.