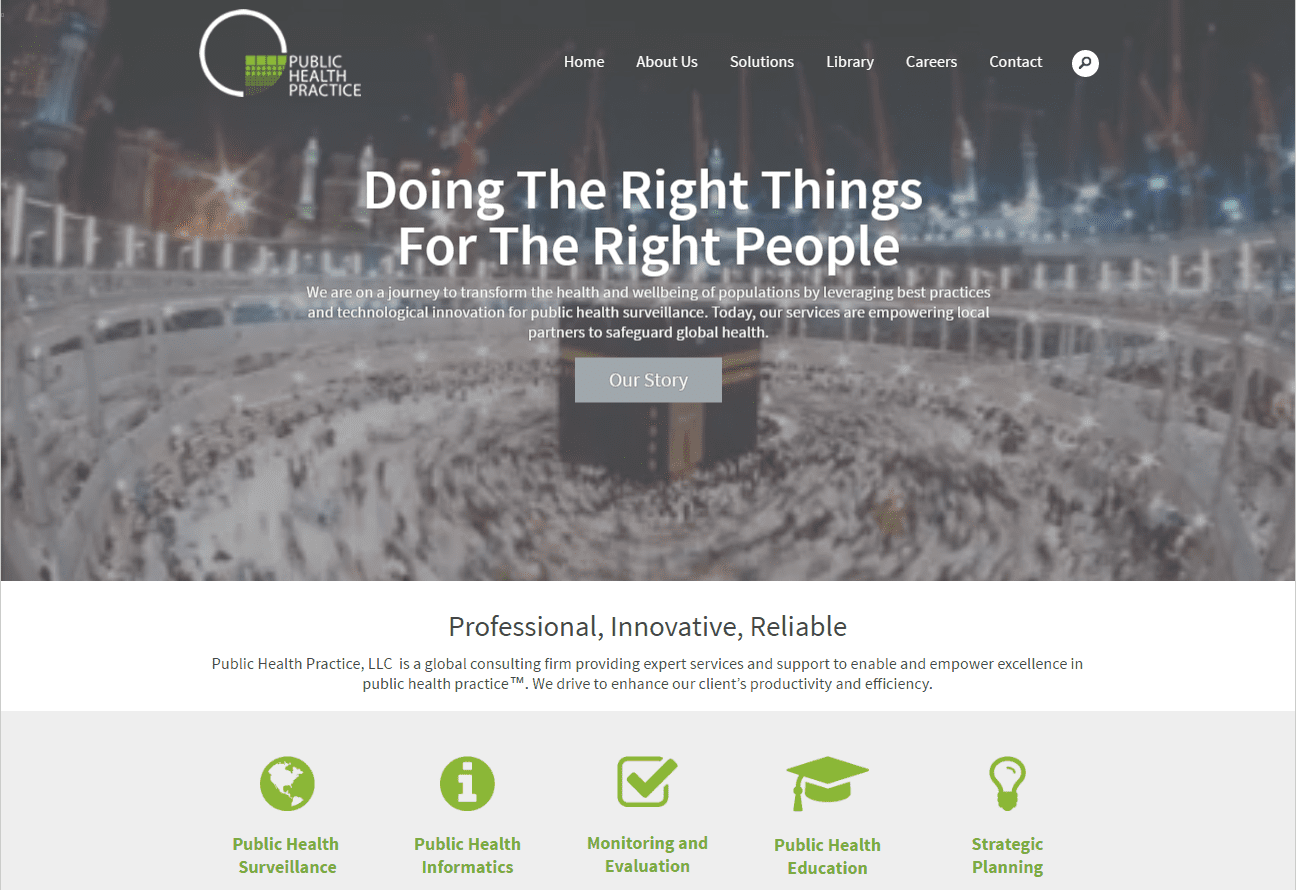 Designing the Defining Website
When Atlanta-based Public Health Practice, LLC (PHP) wanted to create a new website, one of its goals was to become the world's leading repository for published articles and presentations on public health. More than merely housing the information, PHP wanted to make it shareable all over the world to promote better public health and the firm's expertise. The solution was a website with a multitude of moving parts, and PHP turned to NicheLabs to design and develop the site.
PHP employees and consultants worldwide work with global and domestic clients to strengthen public health surveillance, create e-Surveillance programs, monitor and evaluate programs, and provide public health education and strategic planning. They collaborate with local public health professionals and leadership nationally and internationally to develop sustainable tools and strategies for improving public health outcomes. Projects are staffed and supported by professionals with experience in epidemiology, public health informatics, health policy and management, and project management. PHP partners with some of the world's leading public health and academic institutions, including Emory University.
Telling their story to a worldwide audience that mostly uses English as a second language required good graphical cues to direct site visitors to the appropriate information as efficiently as possible. Because site visitors could be in areas that lack high-speed internet service or that rely on mobile devices, such as tablets and smartphones, a high-performance, responsive design was an absolute must.
The design of all the pages emphasizes banner graphics that represent the public health solutions PHP offers, the collaborative efforts that make them successful, the people who work on projects and the parts of the world PHP primarily serves. The highlight information of the website is the solutions PHP provides, the projects related to each solution (they are multiple) and the supporting publications and presentations that amplify the story.
And, naturally, a "wow" factor here and there in the site could make things more interesting. Roll-overs and pop-ups for biographies and all the documents in the website's library provided that. For the PHP team biographies, clicking on the team members' pictures provide a pop-up excerpt of the member's LinkedIn profile. A click there connects the visitor to the team member's LinkedIn profile in a new window, which keeps visitors on the site. Using this technique also enables team members to update their biographies on the website when they edit their LinkedIn profiles.
For the library content, moving a mouse or finger over a box for each project, publication or presentation generates a pop-up summary of the library item. A click will take the visitor to the page on the PHP website that holds the information or to an offsite page. For publications, visitors can click on icons to copy the article to their clipboard or share it through social media. For presentations, a click on the excerpt lets the visitor access the presentation.
By working closely with NicheLabs on the content, design and development, PHP was able to publish what it desired — the definitive website for improving public health practices and outcomes worldwide.
If you have a big story to tell, we can help you use the most effective elements of website design and development to tell it clarity. If you'd like to expand your universe with news coverage, validate your customers' context with your website, SEO program or other marketing activities, we invite you to contact us at 888-978-9254, or by sending us an email using our website contact form.  We love to talk about marketing, best practices for SEO programs, brand messaging and content strategy.