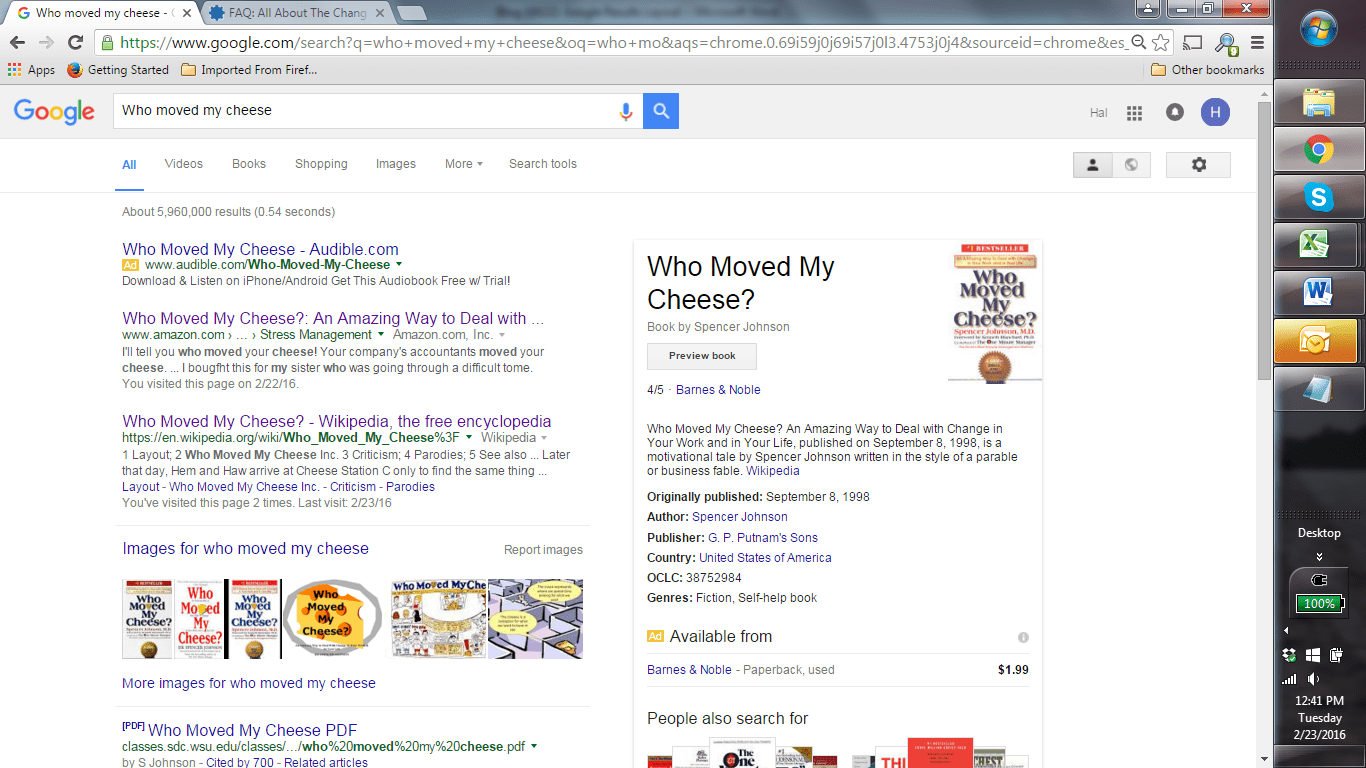 Google Moved My Cheese
Are you the person who doesn't see the value or need for SEO programs or an SEO agency or paid search such as Google AdWords or Facebook?  Given how much the rules change, you might be the sane person in this conversation.    Or are you the person who knows that the number of searches online to buy things each day is measured in the billions, not millions, and to find must customers, SEO programs, both organic and paid, need to be part of your marketing mix?
If you see value in online or digital marketing programs like SEO, be advised that your cheese moved on February 19th of this year.  Google has moved everyone's cheese.  Referencing Spencer Johnson's NY Times Bestseller for nearly 5 years, Who Moved My Cheese?, both new and expert SEO agency people need to adjust to Google's changes.
Google's ongoing effort to deliver the most relevant searches also includes how that information is displayed.  Last year, the "Local 7-pack" became the 3-business "Snack Pack" with an enlarged "More Places" link.   And now, the paid text ads along the right sidebar are gone.  Yes, gone, making some pages look cleaner, impacting both marketers doing organic SEO as well as paid Google AdWords.
And instead of the 3 text ads above the Snack Pack local organic listings, there will be 4 text ads, plus 3 text ads displayed at the bottom of the page.
If you are doing on organic SEO program, such as providing valuable content and generating backlinks to your site, this is a good thing because there are less competing ads on the Google Results page.  It also means that the Knowledge Panels and Company/Product listing boxes become more valuable because they will remain on the right side of the page.
The implications on Cost per Click (CPC) for Google AdWords campaigns are not yet clear.  Fewer ads could mean more competition, thus increasing the CPC.  Yet, the bidding for the 5th, 6th and 7th placements, which are at the bottom on the page, is expected to be lower.  Alas, we only know that the cheese has been moved.
A couple of details.  The change was reported to only be on the desktop/laptop view.  However, our testing today showed the same 4 paid ads above the Snack Pack map and the 3 paid ads at the bottom.   The change is only for searches that are "highly commercialized," such as hotels and dentists, where Google perceives there to be a high likelihood of intent to purchase (as compared to 'who was the first US president to be on TV?').  This is Google's rules and Google's definition.
Your takeaway: Google continues to refine their search offerings so improve user experience.  They continue to be where people search.
This makes your organic search program that much more valuable.
This makes other paid search platforms like Facebook good options for your marketing
Advertising in the newspaper is easier. But who said "easiest is best?'
To learn more about your options for generating more clients, customers and patients, contact a NicheLabs representative by email using our website contact form, or calling 888.978.9254.
We love this stuff and we love seeing our clients successful.