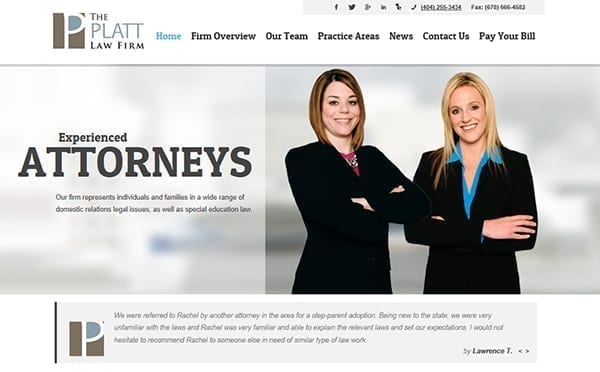 KISS of Success
Keep it simple, sweetheart, (KISS) is a rule of thumb that reminds you to get to the heart of the matter. It also helps you succeed faster.
NicheLabs applied the KISS approach to a new website and search engine marketing strategy for The Platt Law Firm, a family law practice in Roswell, GA, and focused on the keywords to produce Page 1 rankings in 13 search terms related to divorce attorneys or lawyers in Roswell. The rankings are the result of a campaign that includes monthly strategy meetings to review the past month's performance and modify tactics as needed to meet specific firm goals.
Gaining all those Page 1 rankings at the start of the year was critical because divorce action tends to pick up after the holidays. A few of the top keywords Platt Family Law is now ranking #1 for include:
Atlanta divorce lawyers
Divorce process
Roswell divorce attorney
Atlanta divorce attorney
Family lawyers in Atlanta GA
Divorce attorney Roswell GA
NicheLabs meets with Platt Family Law monthly to review progress reports. Some of the key metrics tracked and results include:
How much has traffic increased? Roughly 40% in new user traffic compared to March 2016 when we began tracking for Platt (rounding up slightly)
How has the "bounce rate" changed? The bounce rate has dropped by 11% since March, 2016.
How has the Google star or ranking changed? Since becoming a client, we have been able to help Platt obtain a perfect 5-star review score.
What other key goal metrics are tracked? Platt has seen an 86% increase in visitors who viewed 3+ pages, a 100% increase in Contact page visitors, and a 107% increase in clients spending 5+ minutes on site.
In addition, the firm's rankings are helped by other familiarity factors. People may search on the names of the attorneys or legal staff, or they may have read about the firm's recent restoration of a historic building in Roswell or have met one of the staff at a networking event. Any of those factors will lead prospective clients to the website directly or to a directory, where a listing can confirm a few factors before someone goes to the website.
All of those personal searches can be augmented by social media, and the website is tied to them. Their visibility has greatly increased among Roswell residents and Roswell-related keywords, and more can be done as networking and community marketing programs kick in to increase backlinks from various sources.
"We have been very happy with the results we have gotten by optimizing our site for Roswell," said Rachel Platt, the firm's owner. "Just as important to me is the education I am getting from NicheLabs on SEO and what I can do with social media. Really, it is most helpful."
Prospective clients are driven to the website, they find clear navigation to information about the firm, attorneys and practice areas, enabling them to do their due diligence. The site also allows clients to pay bills and fees online.
NicheLabs completes the package by adding website hosting and technical support to the online marketing and website design and development services. It's a combination that professional services firms have come to expect from a digital marketing companies.
We can help you in the same way and more. Filling the role as your CMO, we can look at your marketing goals and help you devise the strategies to meet them. In addition to websites and SEO campaigns, we can help you with email campaigns, blogging, newsletters, and advertising campaigns across every imaginable media platform. Call us at 888-978-9254, or send us an email using our website contact form. We love to talk about marketing, best practices for SEO programs, brand messaging and content strategy.