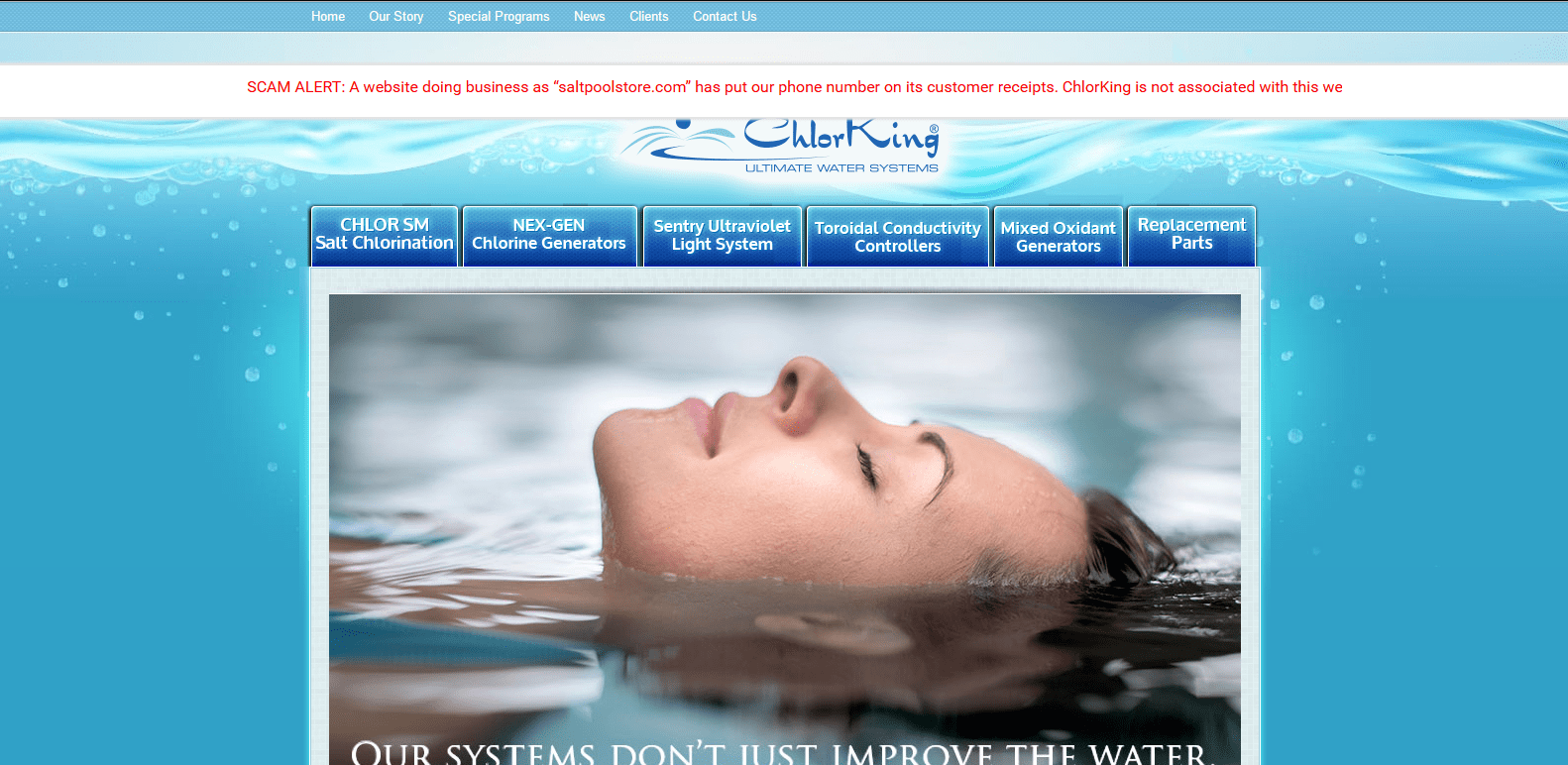 NicheLabs Acts Quickly To Protect Client From Scam
When a scam sideswiped ChlorKing, it didn't take money directly out the company's pocket, but it created more than an annoyance in dealing with irate callers inquiring about a product they hadn't received.
The problem was that ChlorKing neither made nor sold the product – a cartridge for residential swimming pool filters. They design and manufacture salt chlorination systems for commercial pools and spas that replace bulk chlorine systems. But that did not stop the scammer from "borrowing" ChlorKing's phone number for its own use.
The rogue company incorporated ChlorKing's phone number into an e-commerce website and started taking orders by credit card payment. They also used an address in Norcross, and that didn't raise any red flags for somebody who wanted to buy from them. When the items didn't arrive at the expected time, duped customers called the phone number.
ChlorKing's Steve Pearce, who was on the receiving end of the calls, phoned NicheLabs – at lunchtime on a Friday –  to see how we could help. We took a deep dive into the scammer's website registration information and found that all the personal information on the website's owner and technical contact was hidden. There was no way to contact the owner and/or operator of the website to request they remove ChlorKing's phone number.
We responded with an immediate solution that went into effect in less than three hours. With our development team on standby, we created a continuous message at the top of the home page to provide a SCAM ALERT for visitors. We knew they could easily use an Internet tool to associate ChlorKing's phone number with its website, and the company faced the probability of having to deal with a deluge of calls to start the new week. The message tells visitors that ChlorKing has no association in any way with the website "saltpoolstore.com" and urges those customers to contact their credit card companies if they have not received products they order.
The solution greatly reduced the number of phone calls that distract ChlorKing people from doing their jobs. Pearce said the last call came in at the beginning of November and believes the message is accomplishing its purpose. He wants to leave it in place. In doing our research for this article, we noticed that the website is still live but without a phone number. However, information can linger for a lifetime on the Internet, and it's likely that someone found ChlorKing's number because the call was recently received.
Of course, with curiosity piqued back when the issue first came to light, we found a physical address associated with the rogue website. We traced it to single-family home, not necessarily a red flag in today's home-office landscape. Pearce did a drive-by and reported it looked like an empty home. As of our last check, the website has a new address, a condominium in Dunwoody, GA. In Googling the address, we noted the second item on the first page was the rogue website. It says something for their SEO – but that's another story.
By working with a responsive website support company, ChlorKing was able to put a message prominently on its home page to staunch the flow of phone calls that was wasting huge amounts of time.
In the meantime, the rogue site is still alive – and that points to how easy it is for scammers to use legitimate information to steal money. All they did was take a real address and phone number and put them on a website – along with an email address that nobody will ever bother to check. Once somebody does business with the scammers, they not only lose the money, they face the possibility that someone now has their credit card number and maybe access to other sensitive information.
While there's not much we can do to protect people against their own lack of good judgment in e-commerce, we can help you – and your customers in areas where you have control.
First, make sure your website has complete contact information that is readily accessible to all visitors. If people know your customer service team is can be easily reached, it will help you get to the heart of any matter and avoid the problems that come with negative posts.
Second, respond with highly visible measures to help you protect your reputation. In this case, it was the continuous message. In some cases, you may need a separate page or a link to an exterior website. It's likely that our response forced the website operator to remove the phone number from their site. In addition to solving an annoying problem, it may head off potential problems as Google starts to look more closely at quality and accuracy in its search algorithms.
Third, do business with a nimble, responsive website support company that can help you meet any crisis immediately and head-on.
We can help you maintain the integrity of your website and business by making sure you have all the messaging to ensure people get correct information. We invite you to contact us at 888-978-9254, or by sending an email using our website contact form. We can help you manage your content and expand your universe with a granular-level SEO program that gets down to the specifics of your relationship with your clients and customers. We can also help you with an updated website and news coverage. We love to talk about marketing, best practices for SEO programs, brand messaging and content strategy.