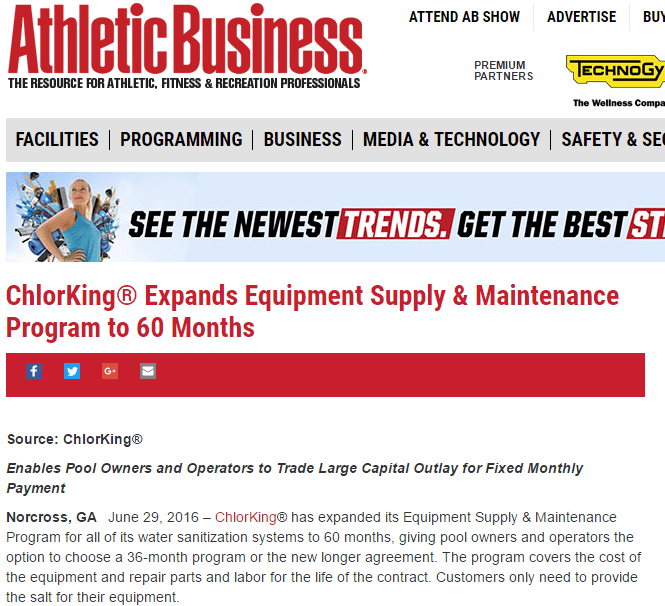 Public Relations Broadens ChlorKing's Exposure
ChlorKing, the world's leading designer and manufacturer of on-site chlorine generation and salt chlorination systems, is no stranger to the world of marketing. The company has a substantial budget for trade-journal advertising, dealer support and trade show participation to reach the owners and operators of commercial swimming pools, spas and water parks. Their program regularly touches people who are known to them.
To reach "the great unknown," NicheLabs placed three news releases in trade journals in the first half of 2016 to get in front of new sets of potential customers. The news releases not only got them in front of more eyeballs in different trade media, it gave them the opportunity to develop feature articles for more in-depth news coverage.
Having the news to tell is the key to getting coverage. ChlorKing announced a new series of salt chlorinators and an upgrade to on-site batch chlorine generators, providing product news, which is always of interest to trade news outlets. A third news release announced a new 60-month financing program. The news releases were written by NicheLabs and distributed to a list of editors we compiled.
By following up with editors to make sure we sent the releases to the right persons, we were able to open conversations that led to upcoming features and additional placements. They include a "Problem Solver" article on the economics and safety of on-site chlorine generators for Recreation Management and an article in Funworld about the company's NEX-GEN equipment for water sanitization in water parks. We are working with editors at Aquatics International to discuss long-term capital budgets to position the company as experts in pool operations while showing the benefits of considering life-cycle costing for more durable equipment – which ChlorKing provides.
Having a PR specialist write and distribute the news releases and do the all-important follow-up helps maintain good relations with editors – who always seem to be on a deadline. When they know they can get high-resolution image files and answers to their questions when they need them, ChlorKing has a much better chance of telling its story effectively.
The news releases have also helped ChlorKing gain exposure in vertical markets, such as hotels, colleges and universities, municipal governments, property managers and other businesses that operate commercial pools. All are strong markets for the company's products.
The PR effort ties into other aspects of marketing. The news releases were repackaged as e-blasts to ChlorKing's dealer network and posted to the company's website as a news item, which created a new page each time to provide fresh material for search engines to index.
If you'd like to expand your universe with news coverage, validate your customers' context with your website, SEO program or other marketing activities, we invite you to contact us at 888-978-9254, or by sending us an email using our website contact form.  We love to talk about marketing, best practices for SEO programs, brand messaging and content strategy.