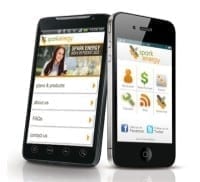 Fast, Inexpensive and Easy: Small Businesses Add Value by Adding Mobile
Small business is growing rapidly and fueling our economy.  Therefore, small business owners must advance technically to continue to grow and prosper economically.   According to the U.S. Small Business Association, 23 million small businesses account for 54 percent of all U.S. sales.  Furthermore, small business job growth has exceeded that of big business by 12 million jobs since 1990. 
As we noted in a prior post on mobile marketing, people are increasingly accessing, sending and sharing information with mobile devices.  Year-over-year, annual wireless data traffic increased 69% in 2012.  With U.S. mobile advertising up 220% in 2012, companies are leveraging these statistics by using mobile marketing to communicate with sales prospects and existing contacts. 
Mobile-optimized websites are surpassing mobile-friendly websites as companies integrate mobile marketing.  Companies that have mobile-friendly websites enable online visitors to view their companies' desktop websites, but require visitors to zoom and scroll to find key information.  Mobile-optimized websites are created for smartphones, so all of the information contained on mobile websites is visible on smartphone screens, including key links to critical information.
Take NicheLabs' desktop website versus our mobile website, for example.  If our website was merely mobile-friendly, you would see the entire desktop home page if you accessed www.nichelabs.com on your smartphone.  Since we have a mobile-optimized website, only critical information appears on smartphones, as seen below.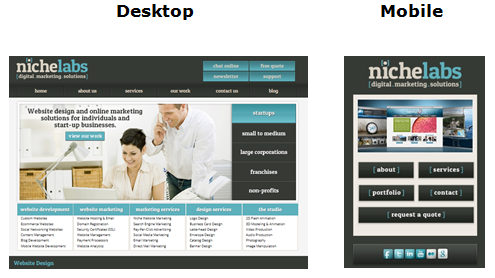 Which website would you prefer to navigate while you are away from your computer and in need to access information quickly and easily?
Will a Mobile Website Suffice, or Do We Need a Mobile App?
While mobile apps are an option for small businesses, compared to mobile websites, apps are more expensive to create and require download prior to use.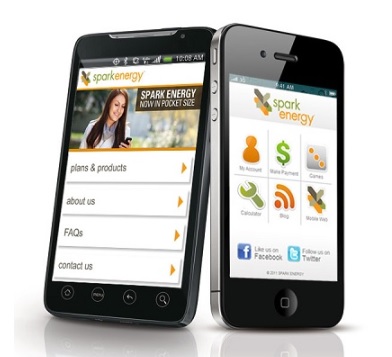 If you are a tech-focused service provider, if you want to offer mobile ecommerce solutions, or if you want to reach affluent audiences, you may want to investigate developing a mobile app.  However, most service businesses can offer critical contact information, company background, and product and/or service offerings via a mobile website.
Mobile Complements Existing Marketing
According to a March 2013 study published by Constant Contact, a provider of online surveys and mass email marketing services, small businesses utilize mobile technology as follows:
73 percent conduct social media marketing.
71 percent conduct email marketing. 
44 percent advertise through social platforms.
34 percent have a mobile-optimized website. 
18 percent run a mobile tablet-based payment point-of-sale.
18 percent use mobile apps to manage operations, like accounting.
Of the 34 percent of surveyed companies that have a mobile-optimized site, 40 percent contain product listings.  Clearly, small businesses are seeing the value of not only making contact information available to mobile customers, but listing product offerings to compel customers to call, email or visit.
If you are interested in learning more about how mobile offerings can increase your brand awareness and generate sales leads, email us at sales@nichelabs.com, or call 888.978.9254.  If you are mobile, visit us on your smartphone.
As we continue to feature digital marketing advancements, connect with us on Facebook and Twitter to receive alerts when new information posts, or subscribe to our monthly newsletter to read summaries of our monthly posts.