Financial Client Utilizes NicheLabs' Portfolio of Marketing Services
Image isn't everything, but it certainly has a place in wealth management.  A critical component of trusting and investing with financial advisors is the ability to identify and find commonality with both the firm's principles and principals. 

Asset Preservation Advisors (APA) is a Registered Investment Advisor that specializes in managing high-quality, tax-exempt and taxable municipal bond portfolios for other registered investment advisors, family wealth offices and institutional clients.
Asset Preservation Advisors believes that there are inefficiencies in the municipal bond market, and it seeks to capitalize on them and add value through active management.  Since 1989, APA has been utilizing active management, effective trade execution, and credit/interest rate management to capitalize on investment opportunities.
After growing substantially since its website was first built and launched several years ago, the Atlanta financial advisor's website no longer met its needs.  The company's principals envisioned a website that would reflect their accomplishments and prominence in a competitive industry.    
An investment firm renowned for tailoring its programs to each client's specific needs and income goals, Asset Preservation Advisors tapped NicheLabs to help build a custom website to meet its growing needs.   Headquartered in Atlanta, website design and digital marketing firm, NicheLabs has created websites and online marketing programs for close to 1,000 mainly small-to-medium-size businesses. 
Located in the prestigious Sovereign building in the heart of the Buckhead area of Atlanta, Asset Preservation Advisors' office design evokes professionalism and sophistication.  As a result of APA's vision and NicheLabs' digital savvy, Asset Preservation Advisors recently introduced clients and prospects to its online space, http://assetpreservationadvisors.com/, which reflects the sophistication of both its financial advisors and its physical space.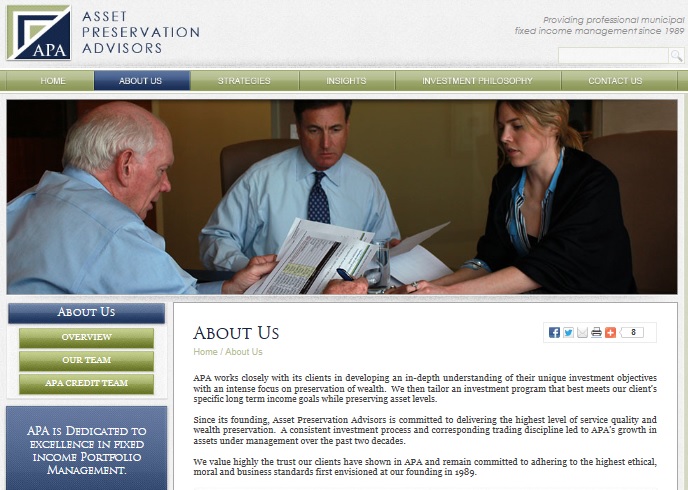 In addition to website design and development, NicheLabs also worked closely with APA to integrate several digital marketing components, including podcasts, blog posts and email marketing campaigns, all of which serve the financial advisors well by communicating targeted messages to mass audiences.  NicheLabs also created a mobile site for the Atlanta-based firm.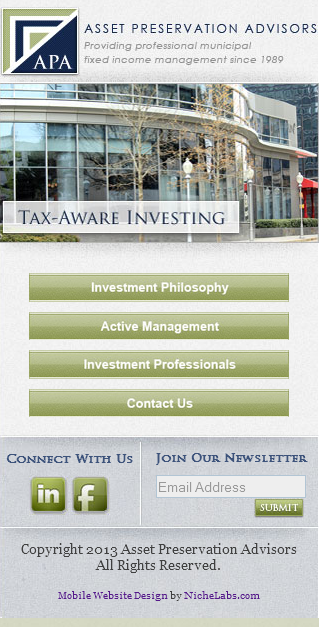 NicheLabs' work with the investment advisory firm continues post-launch, as it provides monthly web hosting, ongoing digital support and email newsletter assistance.
To learn more about how your company can benefit from the design and development of a new website, a redesigned site, or online marketing tools, please email NicheLabs at sales@nichelabs.com or call 888.978.9254.  In addition to Atlanta, NicheLabs has offices in Naples, FL and Charleston, SC, and serves clients locally in the Southeast, as well as businesses nationwide.