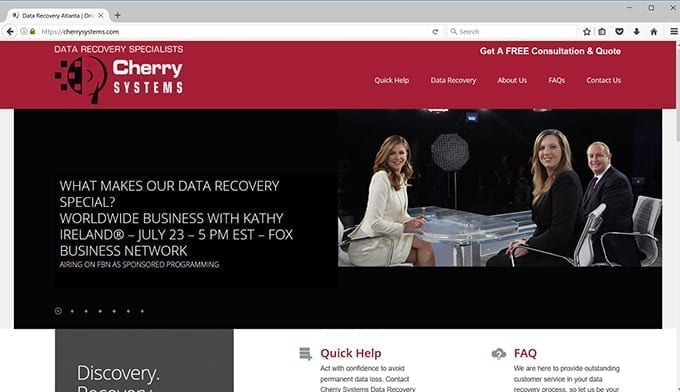 Cherry Systems: Responsive Site Gets Response
It wasn't enough that Cherry Systems, specialists in recovering data from hard drives and other media devices, needed to freshen their look, their copy, and their SEO program. Nor was it enough that they needed to reflect to their clients and prospects that they work with 12 types of devices instead of the three listed on their old site. They also needed to go mobile with a responsive website.
Since launching their new website six months ago, the response has been overwhelming.
"More than half of our visitors are coming to our website on mobile devices," said Lauren Roberts, Vice President of the family-owned company. "We can't put numbers on what it was, but we always had a hunch that more people were visiting us through phones and tablets. The numbers we have now back that up, and it amazes me. We have on line forms, and people are able to fill them out before they mail in their damaged hard drives or devices that need to be recovered or drop them off."
Roberts credits her NicheLabs team for helping with all the features needed to bring Cherry Systems' website up to date with its data-recovery capabilities.
"We needed to be responsive," she said. "We also needed the fresh new look and new language that was less technical and more in line with our clients' voices. And, of course, we needed to tell the world about all the devices we work on – that was huge – and make it easy for them to find the information they needed to help us serve them better."
NicheLabs helped them check all the boxes and more by recently helping her update the site to highlight her company's appearance on "Worldwide Business with kathy ireland®" on Fox Business Network. We helped her place the show's video link on the home page, where visitors can easily view it and get a more personal impression of the company that considers clients to be family members.
Roberts had her ideas about the look she wanted to see for the website and how she wanted visitors to be able to do business. NicheLabs' project management team carried her ideas forward and added features and capabilities to make them more effective.
"I really like the four clickable sections that NicheLabs suggested for the home page for Quick Help, FAQs, Our Process and Contact," she said. "When someone has a data-recovery need, they're anxious about finding the right solution as soon as possible, and we believe our home page directs them to the information they feel they need most with just one click. On the Quick Help page, they can play sounds that replicate the noises failed drives and devices make and provide us with more info to help them."
Adding separate pages for each drive or device Cherry Systems services helps in two ways. In addition to providing information to site visitors, the pages help direct Google searches and other online searches to right information. They can fill out forms to send with their drives and devices and know they are on their way to solving their problem and recovering their critical data.
"That was important, too," Roberts noted, "because while we get 70 percent of our new business from referrals, we also get 30 percent from searches."
Cherry Systems has been maintaining Page 1 Google rankings by using NicheLabs to manage all of its SEO, SEM and PPC (pay per click) advertising. "We're coming up on the first page consistently, and that's all we care about," she added.
Roberts is able to use monthly search results to edit copy and pictures to keep info fresh and up-to-date on business changes and policies. With training from NicheLabs, she is mastering the WordPress content management system.
"We've gotten a lot of complements on our new website," she said. "We love our website."
And we at NicheLabs love being able to help clients like Cherry Systems put it all together. As a digital marketing agency, we can enhance your attractiveness by integrating your online visibility with your website content, keyword relevancy and all the tools we use to help you get more business. We can complement your content with website updates and digital marketing campaigns, including email blasts and pay-per-click advertising. If you'd like to start a conversation now, we invite you to contact us at 888-978-9254, or by sending an email using our website contact form. We love to talk about marketing, best practices for SEO programs, brand messaging and content strategy.