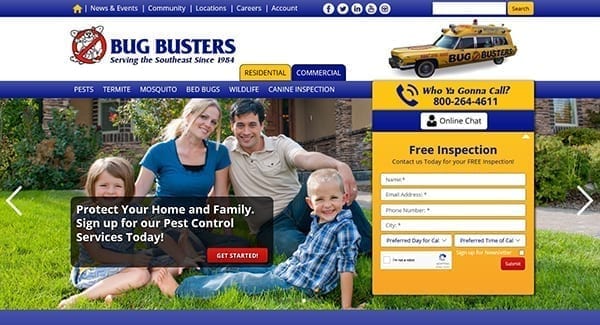 Exterminator Relies on NicheLabs for Bug-Free Website
Bugs. Nobody likes them in their home or business. And Bug Busters doesn't like them on their website, which it uses to attract and nourish its customer base. That's why the extermination specialists, with operations in Georgia, North Carolina and Tennessee, hired NicheLabs to build a website with an SEO program to bring in new customers and make it easy for them to ask questions, sign up for service, refer friends and pay bills – all online.
Because Bug Busters offers an extensive range of services, our design and functionality needed to provide quick access to comprehensive, tightly focused information for each market the company serves and more. To emphasize its service and to get the right information for customer appointments, Bug Busters wanted a phone call to be literally one click away. We added that function with a "Get Live Help Now" box that lets a customer or prospect fill in a phone number and whether to be called back now or 5 or 10 minutes. That box remains static throughout the site – as does the capability to share the current page by email or social media or print a hard copy.
Bug Busters also makes extensive use of its blog, and they had experience with the WordPress engine for their previous website and blog. We utilized WordPress for their new site to enable them to continue their blog, and that also gave them a content management system (CMS) to regularly update other content. They can talk about seasonal topics to encourage site visitors consider what might be bugging their houses or businesses – and take action.
The content addresses pests, termites, mosquitos and nuisance wildlife (which is more than a nuisance when it's your house or business), and it also has a special tab for commercial pest control. In a highly competitive field, the content establishes Bug Busters' expertise and its responsiveness to the needs of customers and prospects.
The content also fuels search engine optimization (SEO), a critical need when pest-plagued prospects launch a fervent search based on a specific infestation. We created title tags, heading tags, image alt tags and internal links to meet two needs. The first need was to position Bug Busters to show up high on the search results for treating a pest-control problem in a specific geographic location. The second need was to make sure that the search listing would direct prospects and customers to Bug Busters' solution and let them contact the company in one or two clicks.
Our SEO program included correcting duplicate content issues and writing meta descriptions. Our mission was to ensure the site was indexed by Google and would not being penalized or blocked for any black hat tactics used previously to optimize site. Further, we ensured all images were optimized for the web by reducing file sizes to less than 50K, and we used absolute URLs instead of relative URLs (i.e. http:// vs https://).
We optimized current and new pages to drive the ranking of supporting keywords and/or geographic location by using specific domain URLs for a metro area, city or keyword. We enhanced that by setting up Google Maps for all locations and linking the pages to Google Plus.
Our functionality/user-testing process analyzed the site to determine where we could turn off JavaScript, cookies and CSS as Google recommends. We made sure to avoid Google penalties by ensuring all content was visible and that all links were working. This include fixing "301" redirects and resolving issues where content could not be searched because of technology such as Flash or iFrames.
With the website's launch, we have a partnership in full stride. Bug Busters manages its content, and we provide the SEO necessary to tweak the content so that it hits its targets. We can help you in the same way and more. Filling the role as your CMO, we can look at your marketing goals and help you devise the strategies to meet them. In addition to websites and SEO campaigns, we can help you with email campaigns, blogging, newsletters, public relations and advertising campaigns across every imaginable media platform. Call us at 888-978-9254, or send us an email using our website contact form. We love to talk about marketing, best practices for SEO programs, brand messaging and content strategy.