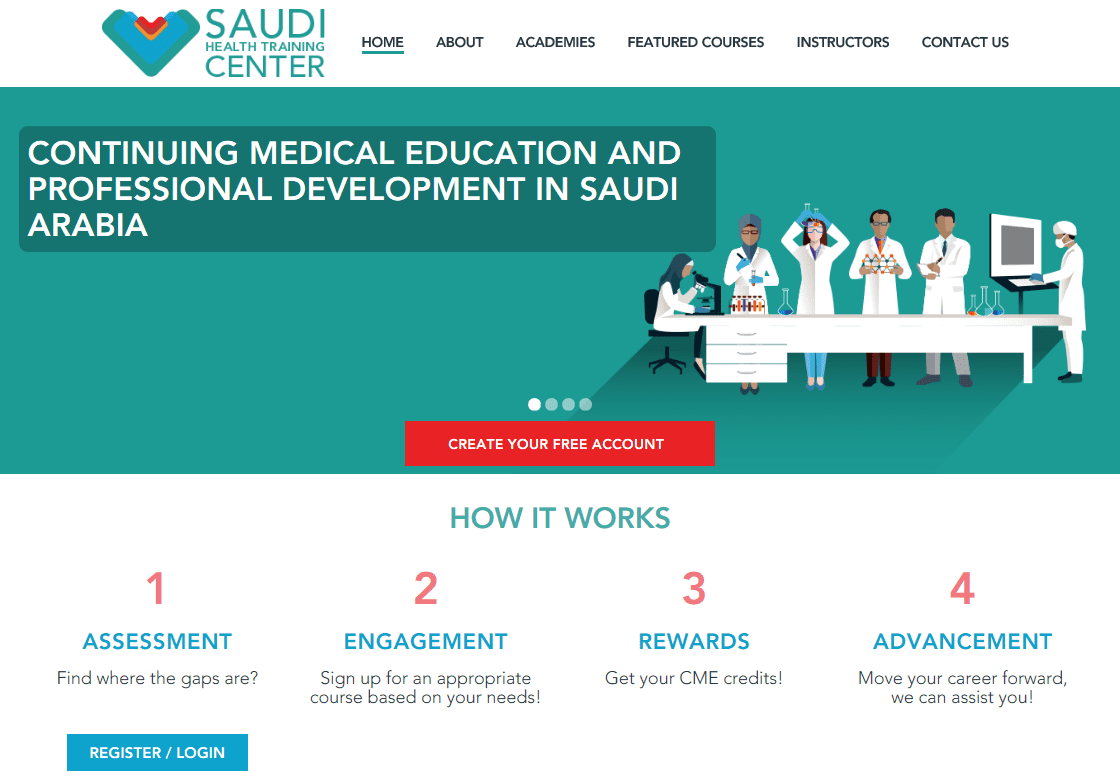 Function Rules Website Design & Build
When an agency associated with healthcare training in Saudi Arabia came to NicheLabs last this year to design and build a website, the project required a broad of view of the relationship between function and design. The English-language site would be used by an international community linguistically tied together by the use of English as a second language, who would depend on icons to direct them to content. In addition, the site would be used primarily by people with mobile phones and tablets, making its responsive capability paramount, and it would need to tie to third-party providers for administrative functions and interactive content during classroom activities.
The start-up Saudi Healthcare Training Center was formed in cooperation with the kingdom's government to raise the level of healthcare and professional development of healthcare providers through online communities. It draws upon the expertise of international public health and clinical specialists to engage with Saudi professionals in lifelong learning experiences tied to recognized continuing medical education credits (CME).
To help the Saudi HTC fulfill its mission, our content development team coordinated copy with a look-and-feel that emphasized colors and icons with "headline-like" copy. Further, the content was divided into a number of academies, which serve as the various online communities for students and instructors. Each academy has its own combination of color and an icon.
Our strategy enabled faster page loading on mobile devices – and for laptop users on Wi-Fi networks. Most of the website's users, we learned in conversation with HTC managers, would be accessing the site wirelessly, and we noticed that Wi-Fi and cellular network speed varied widely outside of major cities. With language being a consideration, too, the strategy facilitated navigation to the parts of the website each user needed to visit. Once there, users could find more detailed information about specific academies and related courses and instructors.
Because each academy is a community, Saudi HTC wanted to promote interactivity within each. To meet that need, we developed online questionnaires that allow students to request courses they'd like to take and to allow instructors or potential instructors to suggest courses they'd like to teach. We also featured on every page a button to create a free account, enabling the center to engage immediately with all interested in becoming part of a community.
Our development team was tasked with connecting the website to third-party providers. One handles all of the coursework, including course descriptions, instructors and registration – all of which can be cross-indexed to allow students to search for courses by topic, academy or instructor. Instructors use the interface to add their personal and course information.
Another provider enables interactive features, such as polling, that allow students and instructors to communicate and collaborate with each other as part of the learning experience.
The design and development coordination required to make a complex website work with speed and user simplicity is a challenge we love to meet. In today's world, your website can be connected to people who need you wherever they are, and you need to meet them on their terms.
We can help you with content, design and development services that help you deliver your messages in ways that can bring you the responses you need for your desired outcome. We can complement your content with website updates and digital marketing campaigns, including email blasts and pay-per-click advertising. If you'd like to start a conversation now, we invite you to contact us at 888-978-9254, or by sending an email using our website contact form. We love to talk about marketing, best practices for SEO programs, brand messaging and content strategy.