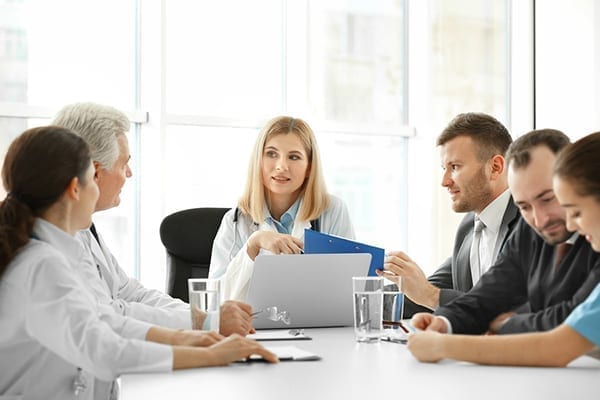 Healthier Healthcare Marketing Starts with Your Website
Healthcare providers and their patients rely on numbers to measure their health. Blood pressure, cholesterol levels, sugar levels, red blood cell counts, etc. are compiled to assemble a snapshot of a person's condition to determine a path toward better health.
Healthcare marketing relies on numbers, too. An oft-cited study by the Pew Research Center shows that 77 percent of all health inquiries begin at a search engine, usually through one of the major search engines, such as Google, Bing and Yahoo, and 72 percent of internet users claim to have looked online for health information during the course of a year. In addition, some 40 percent of the advice they get online comes from social media, where people place a lot of their trust. As a result, some 80 percent of the people have already made up their minds to use a specific practice by the time they call for an appointment.
Based on the numbers, our marketing diagnosis is that you need a strong SEO program to get patients to your website. Then, you must complement your SEO with a website that conveys the critical information patients need to contact you.
As marketers, we believe a good website needs these three elements:
Quality Content: Your challenge here is to be reassuring and welcoming while displaying your technical expertise. Prospective patients – and even current patients seeking more information – want to know you are expert, and that means your copy needs to include all the "key terminology" backed up with explanations to ensure they understand what you're talking about. When you can provide information that makes them feel comfortable in your knowledge and approach to their care, it helps move them closer to deciding to contact you. Links to additional information, such as other articles for them to read or videos, are good, but make sure they are relevant and that the linking information is still good. Those providers can pull info from their websites at any time, and they can contain links to other information that might not be good for your relationship with a patient. Google rates websites on the quality of their content.
Clear Navigation: Make sure your website navigation tools lead visitors quickly to the information they want. People look for healthcare advice or information because they have an issue of great concern. You'll earn their confidence by helping them find the information they want in one or two clicks, and it will encourage them to stay on your site and key pages for a longer time. That will also contribute to higher rankings.
Mobile Friendly: With increasing numbers of searches being done on mobile phones or tablets, you must have a "responsive" website, one that automatically recognizes and adapts to a mobile device. The net result is easier reading and navigation. There is a general trend for researching information across the internet as well, and various analytical tools can help you learn the best ways to reach your target market through mobile devices. A responsive website goes beyond marketing. It can make it easier for patients to provide you with information in advance of a visit, but you must make sure your website complies with various regulations to protect privacy.
These three elements will also contribute to your success in SEO (search engine optimization). The major considers all of them as part of its ranking process, and the higher you score, the better your chance of ending higher up in search results. Social media activity, such as blogging, tweeting and Facebook, can also increase traffic to your website, and if you score high in the three quality elements plus pure traffic, you have a better opportunity to increase your number of patients.
In addition to marketing, we would be remiss if we did not remind you that websites and all forms of electronic communication involve highly sensitive personal information. To make the best use of the internet, you need to make sure patient information is kept secure from hackers. In most cases, failure to take proper security measures carries stiff fines and other legal penalties.
Creating and managing a website and SEO requires a lot of upfront work and constant attention – just as with starting and strengthening a relationship. If the thought of it all gives you a headache, our advice is: take two aspirin and call us. We can help you design and deploy a program and monitor and update it to maximize your online presence and keep you ahead of your competitors. Call us at 888-978-9254, or send us an email using our website contact form. An expanded website, news coverage, advertising and a granular SEO program can help expand your universe. We love to talk about marketing, best practices for SEO programs, brand messaging and content strategy.