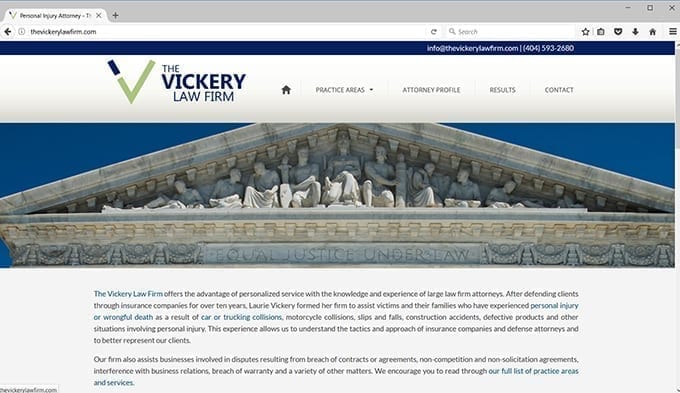 New Office, New Website, New Vibe
When Laurie Vickery decided to move her law firm, The Vickery Law Firm, into a new office, she decided it was time for a new website, too. With a new look, physically and virtually, she added an SEO program, with new keywords and more substantive pages, to create a new, more vibrant online presence with help from NicheLabs.
Vickery, who has represented individuals and businesses for more than 15 years throughout Georgia in state and federal courts, relocated her offices to a renovated house at 138 Bulloch Ave. in Roswell's Historic District and wanted a cleaner-looking website to reflect her new space as well as a mobile-friendly site that's more attuned to the on-the-go accessibility of current clients and research done by prospective clients.
Being mobile-friendly enhanced the SEO program we set up for Vickery. In addition to the growing number of searches done on mobile phones and tablets, Google, the search engine giant, penalizes businesses that don't have mobile capability.
"Incorporating SEO, tracking and making specific suggestions for the use of keywords were all really useful suggestions from NicheLabs," Vickery said. "They also increased the number of substantive pages to help our SEO, and they helped us tremendously with the display of our graphics."
Working with a WordPress template and blogging engine, we were able to modify the navigation tabs to highlight her attorney profile instead of a traditional about page. We included links to professional credentials and achievements and to her practice areas. All of this tied in better to visitor use from a mobile device. With the website listing results, Vickery has the capability to add new case results as updates.
"I like the compliments I receive on the website's appearance and its easy navigation," she says.
Want to get compliments on your website and create good vibes for your business? Talk to us. We can help you use the most effective elements of website design and development to tell it with clarity. If you'd like to expand your universe with news coverage, validate your customers' context with your website, SEO program or other marketing activities, we invite you to contact us at 888-978-9254, or by sending us an email using our website contact form.  We love to talk about marketing, best practices for SEO programs, brand messaging and content strategy.