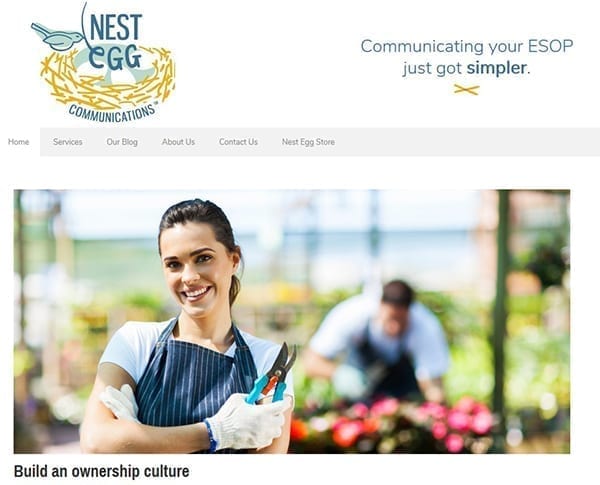 Website Redevelopment for Nest Egg Communications Simplifies Info Access for Complex Subjects
Nest Egg Communications has built a business by making molehills out of mountains when it comes to communicating complex issues to companies with ESOPs (employee stock option plans). ESOPs give employees a financial stake in the companies they work for, and companies of all sizes have found great success in the concept. Each employee's financial gain depends on everyone pulling together, and that, in turn, requires a communications system that motivates employees and effectively explains their benefits. Nest Egg has an array of products to communicate all that information to a core customer base of companies worth up to $10 million, but they turned to NicheLabs for a website redevelopment to help them close their deals.
Their previous website lacked the SEO (search engine optimization) capability to help small companies find them, and it had a complex registration process and poorly functioning online store with no PCI compliance with credit card providers for selling their communications kits. They also used an outdated blogging engine for updating information on their website.
Our solution focused on three main areas:
Redeveloping their website with user-friendly access to products
Visitors can get full product descriptions from the website or while in the online store without having to enter any information. For company managers, they can easily download PDFs about all products that they can print or forward to other managers or employees. The site also has social media "share" buttons to help push out more information across multiple communications channels. Further, the contact page only requires a name and email address, along with a comment box, simplifying the process for customers to contact the company.
Using WordPress for an effective CMS (content management system)
Nest Egg employees can easily update or add product information and create blog posts. WordPress is intuitive to use, and the system also lets website managers create breadcrumb trails that help users find their way around the site more easily.
Providing a new e-commerce capability to simplify ordering and meet all security compliance requirements
The store is always open, well-stocked and secure. Every aspect of the store operation is quickly and easily accessible – and Nest Egg branded. Full product descriptions are available right up to the "checkout page," to make sure busy managers or committee members are purchasing exactly what they need. The checkout page is PCI-compliant, and all major credit cards are accepted.
Because this was a "redevelopment," we were able to copy all of Nest Egg's existing materials into the new WordPress format, which carries several benefits. In addition to improving Nest Egg's content management capabilities, the format's blog engine indexes all new posts to the blog, effectively reaching out to search-engine bots that look for fresh material. Incorporating their format's responsive capability now makes all of the site's content accessible from a computer or any mobile device that can connect to the internet.
At NicheLabs, we have the expertise to help you develop complete solutions for effective communications. Filling the role as your CMO, we can look at your marketing goals and help you devise the strategies within your budget to meet them. In addition to websites and SEO campaigns, we can help you with email campaigns, blogging, newsletters, public relations and advertising campaigns across every imaginable media platform. Call us at 888-978-9254, or send us an email using our website contact form. We love to talk about marketing, best practices for SEO programs, brand messaging and content strategy.