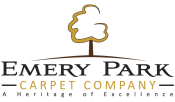 NicheLabs Helps Bring New Brand to Life
A stylish, functional, engaging website experience is a vital first step for consumer brands in the marketplace. When a craftsman wanted to continue the legacy of his former employer, a brand identity and communications firm, Touchpoint Management, offered guidance for establishing and elevating the Emery Park Carpet Company brand.

Leveraging the tragedy of terminal illness into the triumph of beginning anew, a former employee of a late luxury wool carpet manufacturer recently opened his own wool carpet mill, Emery Park Carpet. As a tribute to his late friend, Mike Paffenback, president of Touchpoint Management, vowed to do whatever he could to ensure Emery Park's marketing success. From its new location in Calhoun, GA, Emery Park Carpet provides customers with high-quality, artisan-crafted wool rugs and carpet, and very soon, customers will be able to visit the company online.
When asked why he selected NicheLabs to design and build Emery Park's website, Mike Paffenback stated, "I've had the pleasure of successfully collaborating with NicheLabs on other client projects over the past few years, and there is no other digital marketing agency I would trust more for this centerpiece of Emery Park's marketing efforts."
For more than seven years, Atlanta website design and digital marketing firm, NicheLabs has created websites and online marketing programs for close to 1,000 mainly small-to-medium-size businesses.  In addition to Atlanta,
GA, NicheLabs has offices in Naples, FL and Charleston, SC, and serves clients locally in the Southeast, as well as companies nationwide.  To learn more about how your company can benefit from online design, development and marketing counsel, please email NicheLabs at sales@nichelabs.com or call 888.978.9254.