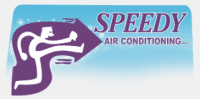 Premier HVAC contractor chooses NicheLabs to build his company website
Peter Pietruszko, owner of Speedy Air Conditioning in Naples, FL, has high standards that have earned him Trane's "Premier Dealer" and Lennox's "Comfort Specialist" awards – the highest levels of achievement recognized by both manufacturers.
When he decided to build a new website, he naturally wanted to find the best firm in Naples to do the job. When he asked business associates for a recommendation, they said NicheLabs, a full-service website design firm with offices throughout the Southeast, including Naples and Atlanta.
Though his current site is only five years old, it was built using older HTML technology to fit smaller screens than what people are using today and lacks the fresh look Pietruszko wanted.
The redesign "has been overdue for a while," he said.
NicheLabs will build his new site using WordPress, a CMS (content management system), which, unlike his current HTML site, will give him the freedom to post updates and special promotions himself without the need for outside assistance.
Pietruszko is also looking for NicheLabs to give his site a more contemporary look. Since 90% of his business is residential, he wants to stress the ultimate benefits he offers his customers – comfort in their homes because of the high-quality brands he installs, backed by the quality of his workmanship and his 27-year reputation for honesty and integrity. He also offers customers the added comfort of handling all the permitting for them.
The website homepage will contain an image slideshow that will convey the comfort theme, with photos of families and couples of all ages enjoying being at home. The photos will show, too, that Pietruszko is a contractor often selected by builders of custom homes and many of Southwest Florida's luxury condominium developments.
Since more and more people are now using mobile devices to search the Internet, NicheLabs will also create a mobile version of the Speedy Air Conditioning website. In addition to design, NicheLabs will provide SEO (search engine optimization) to help more prospects find Pietruszko's company. The website will have numerous calls to action that will encourage site visitors to call or email for appointments.
If your website is feeling a bit out of date or you're interested in converting it to CMS for greater flexibility, website design firm NicheLabs can provide you with attention-getting, affordable options. For information, please email sales@nichelabs.com or call 866.413.7952.