Be Afraid. Be Very Afraid.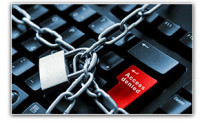 "Cyber attacks cost small and medium-size businesses an average of $188,242, and almost two-thirds of victimized companies are forced out of business within six months of being attacked."
If you are thinking, "That won't happen to my business," keep reading. 
Small businesses are more susceptible to cyber attacks than larger organizations. Hackers take advantage of the fact that small businesses usually have less human and financial resources to dedicate to online security.  If you think hacking will only happen to "them," think again.
According to the National Cyber Security Alliance (NCSA), "If cybercriminals can breach a small business and steal credentials (credit cards, banking accounts, email access, etc.), they can use that information to steal money directly, create attacks on your customers and work their way around the business ecosystem in other nefarious ways."
Even if you are not forced out of business or don't lose any money when attacked, your company can still be impacted.  If your website crashes temporarily, imagine the missed sales leads, business opportunities, loss of credibility and employee unproductivity.
Now that we have your attention, we also have a solution. 
NicheLabs offers website protection round-the-clock with WebsiteWatcher, a service that manages and monitors both your outer and internal networks.  By continually protecting your firewalls, WebsiteWatcher prevents hacks into and information leaks out of your system by monitoring both your application and network firewalls.  Using a web-based internal scanning service, WebsiteWatcher identifies existing and potential vulnerabilities within your website and protects you from incurring costs associated with restoring your system or worse:  rebuilding your online real estate altogether.  
Is your company safe? 
To learn more about protecting your businesses' online communications and transactions, email us at sales@nichelabs.com, or call 888.978.9254.  As we continue to feature digital marketing advancements, connect with us on Facebook and Twitter to receive alerts when new information posts, or subscribe to our monthly newsletter to read summaries of our monthly posts.