Archive for March 18th, 2014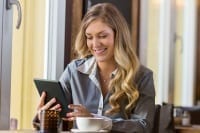 Why Grow Your Email List?
As much as we love social media – and as great as they are for engaging customers and prospects to build trust – email remains a highly effective tool for targeted messages to get a response for a specific reason. Isn't that what it's all about?
Generating a response only requires that you be relevant to customers and clients. This is the key to growing your list.
A blog post originally posted on Advertising Week Social Explorer provides a lot of really good tips for growing your email list. They should stimulate a lot of good, strategic thinking about whom your target is and the best ways to tie your product or service to your website and marketing tactics such as email and social media.
Read More