Archive for May 7th, 2014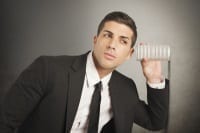 What Your Competitors Know and Your Customers Hear
Here's a competitive intelligence tool that's credible and free.
Google Alerts can help you stay up to date on developments in your business by tracking industry news and trends and your competitors' activities automatically. And this information has a wide variety of uses beyond tracking your competitors, such as gathering material for email marketing and social media campaigns.
We always think of Google searches as a way for customers and prospects to find out about us. As one of the world's largest aggregators of information, Google is well-positioned to pull in news articles, blog posts, even website changes and anything else that hits the Internet. Google Alerts is a free service, all of it delivered to your email box whenever and as often as you want. Google Alerts recently launched a redesign of its format for better aesthetics and management.
Read More