Archive for June 5th, 2014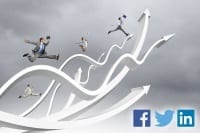 Are Social Media Mistakes Holding Back Your Sales & Marketing?
Do you feel like your business isn't meeting your goals for social media marketing? Perhaps you're overlooking a few things that could boost your viral opportunities and overall exposure. That's the point of a recent post by Heather Smith on PR Daily.
"Social media (participation) is the most popular online activity, so it makes perfect sense for businesses to want to tap into social media marketing to increase sales," she writes. Simply opening an account or sending out some posts or tweets is not enough to make social media platforms a viable and profitable part of your marketing strategy. By avoiding some missteps, businesses have the ability to increase their return on investment (ROI) for social media marketing and create more awareness and leads from social media accounts."
Read More