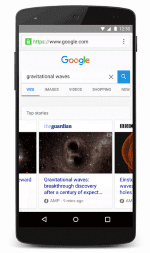 'AMP' Up Mobile Searches
Mobile SEO has never been more important. If somebody needs to find your website – even if they know who you are and enter your company's or website's name into a search – they demand an instant result. This is especially true if someone needs the information instantly, such as to find your business or access a technical manual while repairing equipment.
It's been almost a year since Google launched its Accelerated Mobile Pages (AMP) Project, an open-source effort to speed up mobile searches, which now account for some 60% of all searches. AMP indexes documents and domains, and those in the index show up much faster on searches. Today, more than 125 million documents and 640,000 domains are indexed.
This has nothing to do with page rankings; it's all about speed. Why?
Because we're all addicted to speed in general. People move on in 3 seconds or less when they don't find the information they want while on a mobile device.
Because we depend on speed when we need information really fast – like to find that restaurant address and directions you thought you knew or that service bulletin your technician needs in the middle of a job.
Local searches account for a vast majority of mobile searches, and the speed of the search is related to customer satisfaction, especially if someone is ready to make a purchase at the moment of the search. AMP pages will play a key role in helping companies take advantage of mobile searches, and Google is ramping up the program, according to an article on the website Search Engine Land. You can start to look for a lightning bolt to designate an AMP page, and at some point, speed will play a factor in page rankings. Among the benefits seen to date:
AMP pages load 4x faster and use 10x less data compared to non-AMP pages
AMP pages load in less than one second on average
90 percent of AMP publishers experience higher CTR
80 percent of AMP publishers experience higher ad viewability rates
Google sees AMP as a way to increase mobile user satisfaction with faster-loading pages and eliminating annoying ad formats. AMP competes with Facebook Instant Articles and Apple News, but it gets into other categories, including e-commerce.
For most websites, AMP pages are created through a combination of HTML coding and keeping content more spare to enable faster performance. In our experience, the faster you can connect with a prospect or customer, the more likely they will be to heed your call to action or stay on your website to find more information.
Don't be left in the dust. NicheLabs can put your business on the fast track to validate your customers' context with your website, SEO program or other marketing activities. We invite you to contact us at 888-978-9254, or by sending us an email using our website contact form.  We love to talk about marketing, best practices for SEO programs, brand messaging and content strategy.