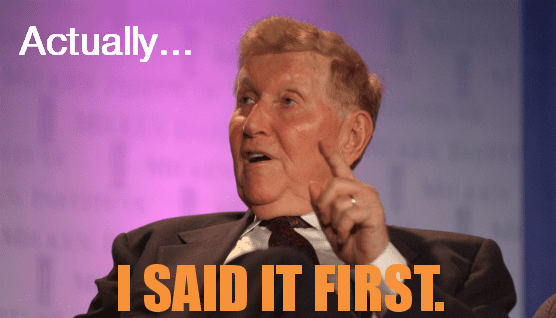 When SEO (Search Engine Optimization) Isn't Your Answer to More Customers
My prior post discussed conversations at a recent meeting of marketing leaders, where it was reiterated that the challenge for a business owner is to get more customers is about getting the right message to the right person at the right time. And I said it wasn't about "doing SEO." Even if you end up with SEO as part of your solution, you'll see that SEO is part of your solution and not something on a business checklist.
As consumers, you and I want the right information at the right time. Your prospects are no different. The challenge is what info and when. See, this is not about SEO.
In January 1996, Bill Gates wrote an essay titled "Content is King", which was published on the Microsoft website. More than 10 years earlier, Sumner Redstone coined that phrase. Sumner is your typical 92 year old billionaire and majority owner and Chairman of the Board of National Amusements, is the majority owners of CBS, Viacom, MTV, Showtime and Paramount Pictures.
Thirty-odd years later, with all of the changes to technology and copyright, Sumner's message is what Google also believes. Content is king. Period.
Do I really need to write?
No, you don't. You have to provide valued content; that doesn't mean you have to write it. You have employees, you have customers, you have vendors and partners, you have freelancers and of course, us.
What's important is that you accept that somebody needs to tell your story. You need content for your sales team to share. You need content for your customer service team to refer to and for your SEO strategy. You need content for your website, press releases, customer education. You get the point.
And in this age of conversing and recycling, marketers have picked-up product management's term "repurpose." Write something for a press release; repurpose it for your blog, customer newsletter, employee newsletter, SEO tactics and have your sales team submit it to online forums. If it's really valuable, make it downloadable only after the user provides their name and contact info.
There are many successful businesses that don't follow Redstone or Gates. There are more than do.
NicheLabs is a leader in the online marketing and website development space with a long-term commitment to its customers and their niche markets. To speak with our team, please email us using our website contact form, or call us at 888.978.9254.